Energy Performance Certificate Assessors
Domestic Energy Assessors can now include floor plans to enhance their EPC reports using Visual Building.
Many Energy Performance assessors are now also offering estate agents, home owners and landlords a combined service of providing both an Energy Performance Certificate and report together with the associated floor plans. The same plans can be used as an essential sales aid for an estate agent or for use as health and safety requirements by a landlord. EPC assessors can supply both 2D and 3D floor plans, in colour or in monochrome and in .jpg, .png, .bmp image file formats.
| | |
| --- | --- |
| | |
| 2D Colour floorplan | 3D floorplan |
If you are an Energy Performance Assessor you can now extend your services to your clients with Visual Building. We recommend Visual Building Basic for all Energy Performance assessor's floor plan requirements.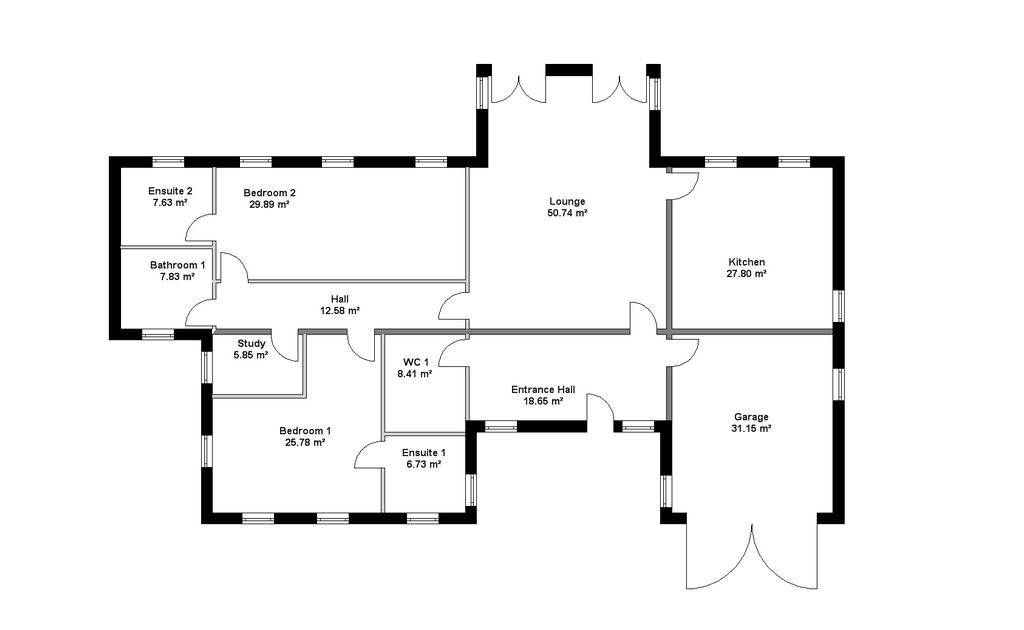 See also Visual Floor Planner
Visual Floor Planner will easily and quickly create 2D floor plans for DEA use, with additional symbols:
Sales Brochures
If you are in the business of selling or letting properties, then you know time cinsuming and expensive it is to create and maintain your brochures. With Visual Building you can quickly create floor plans for your brochures.
Building Regulations
Building Regulations are rules which we are all legally enforced to follow, in the interest of public health, safety and the environment. The Building Regulations promote standards for most aspects of a building's construction, its energy efficiency and the needs of all people including accessibility for those with disabilities.
Building Regulations apply to most building work and therefore it is important to know when approval is needed.
The responsibility for checking the Building Regulations have been met falls to Building Control Bodies - either from the Local Authority or an Approved Inspector from the private sector.
Drawings that are submitted to Building Control are of a much detailed nature than normal planning drawings. Your plans must show your construction methods and materials used. Many support drawing will also need to contain a lot more written detail. The drawings will also need to show detailed dimensioned cross sectional views.
Visual Building is more than capable of providing the drawings that you require to support Building Regulations. As a professional, you still need to know the regulations, but Visual Building is the ideal tool that will allow you to quickly create all your support drawings.
Here are some examples of drawings that relate to Building Regulations: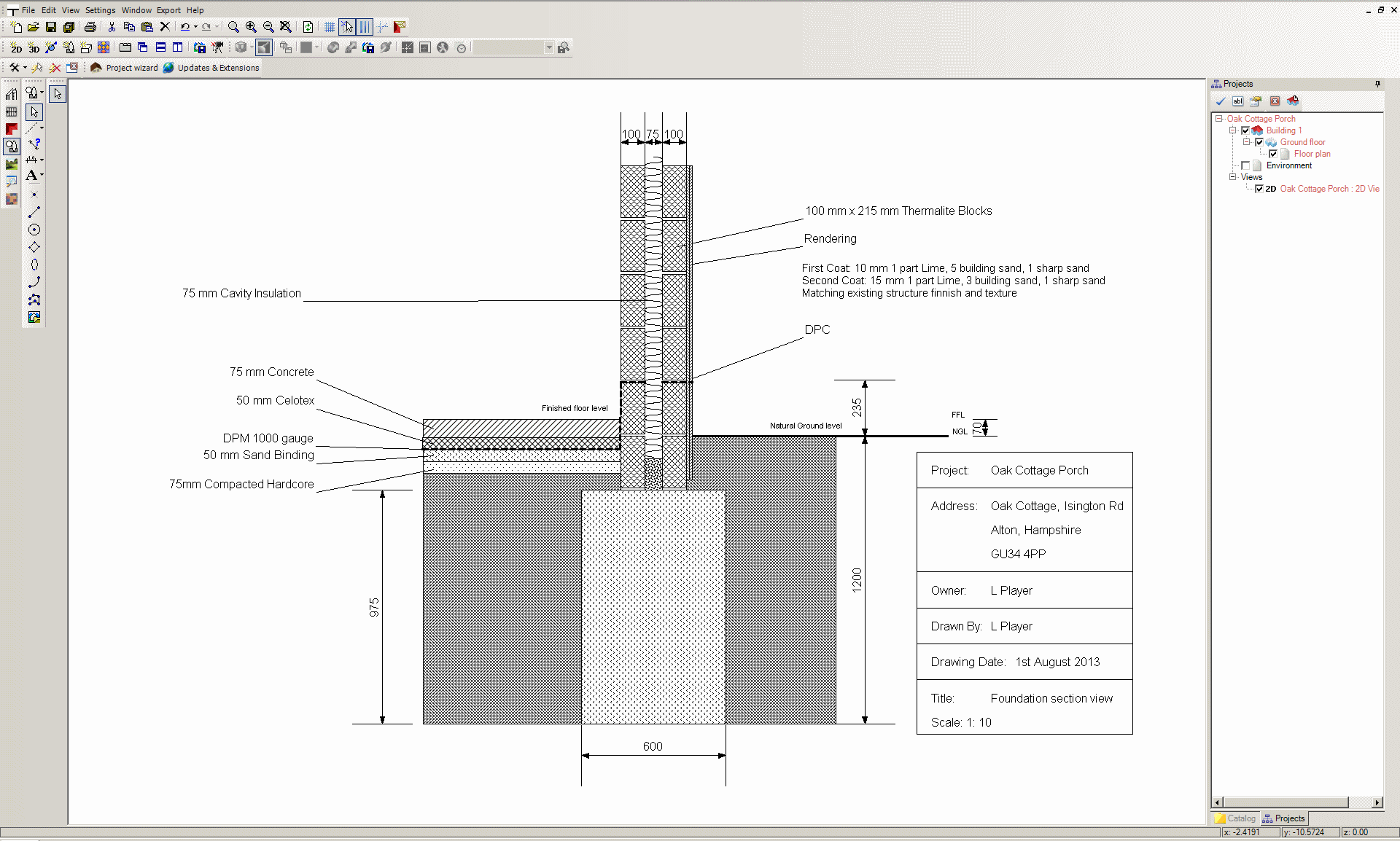 Building Regulations Part P: Electrical Installation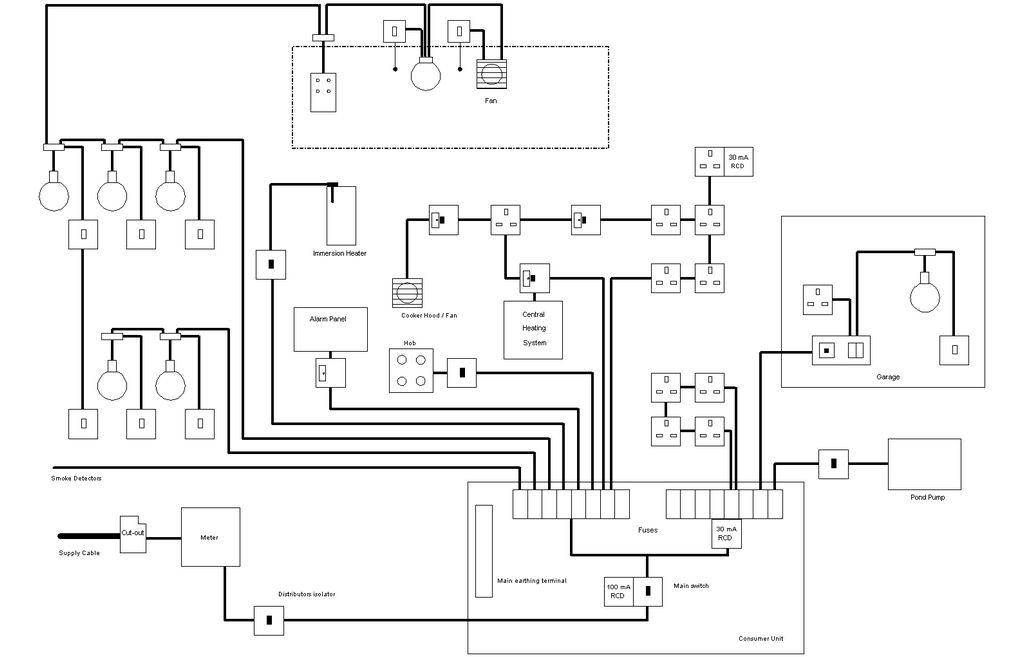 Example of an electrical installation diagram drawn with Visual Building.
Communication
In today's world we all need to communicate.
For example, the simplified communication cycle for a residential build is:
Property owner communicates his ideas to the architect.
The architect then communicates to the owner what can be done and the best way to do it.
The architect may then need to communicate with the local authority for planning approval.
The architect then needs to communicate with the builder.
The architect and builder may then need to communicate with building control.

At each and every step the owner, architect, builder and local authority need to communicate and almost all that communication will need to be supported by documentation and drawings. Visual Building is the ideal tool that is affordable and easy to use to enable all these steps to be communicated better.
Poor plans created with an inferior software application will cost someone in the communication chain more money (usually the owner), so it is important to use a drawing tool like Visual Building that will provide clear clean drawings. Poor plans can be costly if as a result the Building Control officer insists in the work being rectified.
The builder and architect can also provide better estimates and quotations and meet set project deadlines if all are working to well presented drawings.
Costing / Estimating
... coming soon!
Electrical Plans
Visual Building can aid you in all aspects of designing and documenting electrical installations for most domestic, agricultural and commercial use. This includes Telephone, Data, Lighting, TV, Satellite, AV systems, Security, Low Voltage, Heating and Ring. Please note that Visual Building offers no technical advice in designing electrical installations.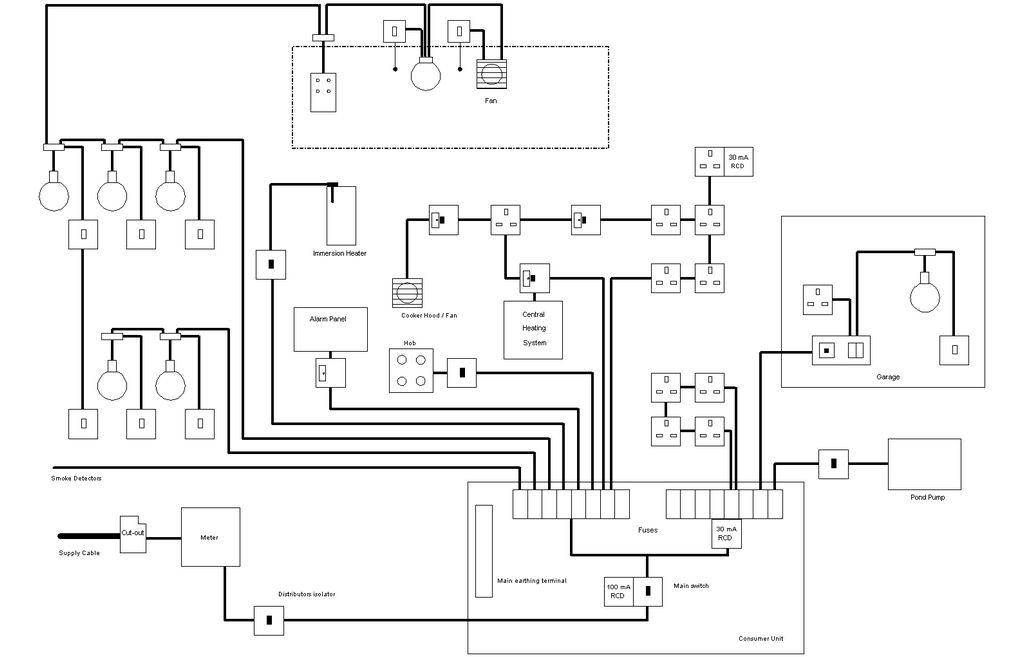 Example of an electrical installation diagram drawn with Visual Building.
Allthough supplied with many 2D symbols, Visual Building symbol catalogue is extendible allowing you to easily create and add new symbols as required. You can even import existing DXF symbol libraries. (Professional and Premium versions).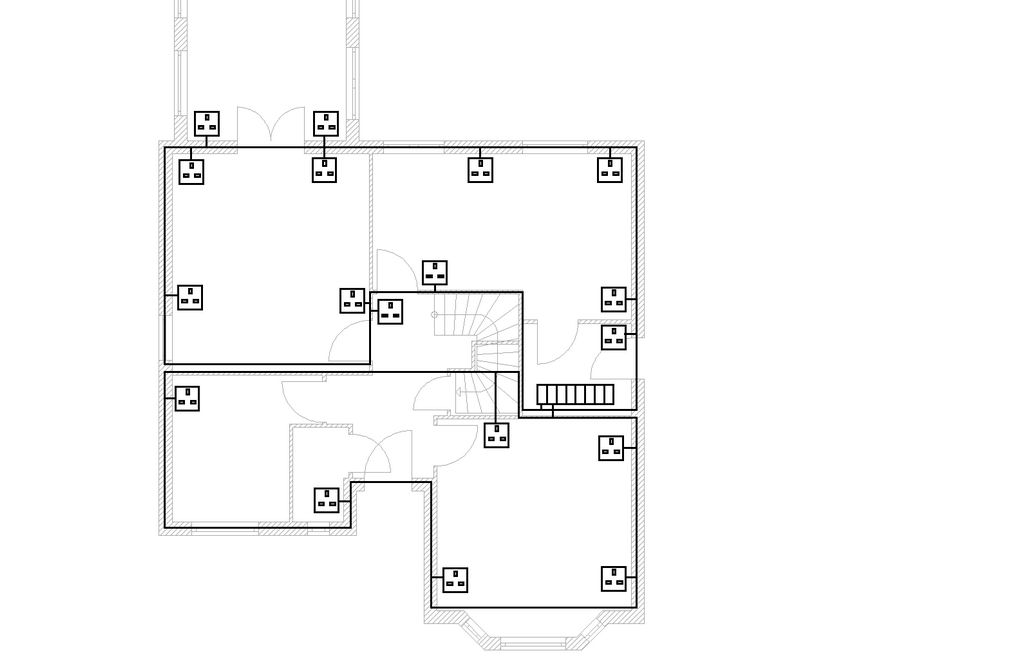 Example of an electrical routing plan.
Superimpose your routing plans onto your building plan drawings to allow you to plan the optimum wiring layouts.
All versions can create additional 2D symbols from a bmp / png / jpg. Watch video
Energy Conservation
Visual Building is able to offer help in the following area of energy conservation:
Solar Photovoltaic Panels
Solar Photovoltaic (PV) Panels allow you to generate your own electricity. With the current high energy costs the amount you save can be very attractive. In addition as of April 2011 the UK goverment will now pay you 43.3p for every kWh your solar panels generate and feed back into the National Grid.
How Solar Photovoltaic (PV) Panels Work
PV panels work on roofs that face in a southerly direction and are unshaded. When sunlight hits the PV panel an electric charge is created across the layers. The more panels you have the more electricity will be generated. The brighter the sunlight, the more electricity is produced, even on a cloudy day.
Using Visual Building, you can create a roof plan, establish its position relative to the  sun and calculate the likely energy to be generated.
Planning Applications
Most local authorities now encourage planning applications to be submitted online and as pdf files. Visual Building enables you to create the documentation and create as a pdf file to support your planning application.
Site Plan
Your planning application must include a Site Plan. The purpose of the Site Plan is to help identify the property and its exact location. This can be achieved by including an appropriate map file obtained from Ordnance Survey or one of their OS Mapping and Data agents. The use of these Ordnance Survey maps are restricted by copyright and photocopied maps are prohibited. There are some rare cases where an Ordnance Survey map is not yet available, for example when adding a conservatory to a new house, and if so a developer's plan may be accepted in place of an Ordnance Survey map, but in most case, non Ordnance Survey maps will not be accepted. When you have obtained your Site Plan as a DXF file, you can import it into Visual Building and indicate the following details concerning your planning application:
Site boundary (normally the property boundary) in red.

Adjacent owned land by the applicant is outlined in blue.

Indication of new conservatory or extension.
Note that the Site Plan is not the same as a Site Layout Plan.
Example 1250:1 dfx Siteplan copyright Ordnance Survey
Reproduced with kind permission of Ordnance Survey.
Site Layout Plan
Detailed Plans and Drawings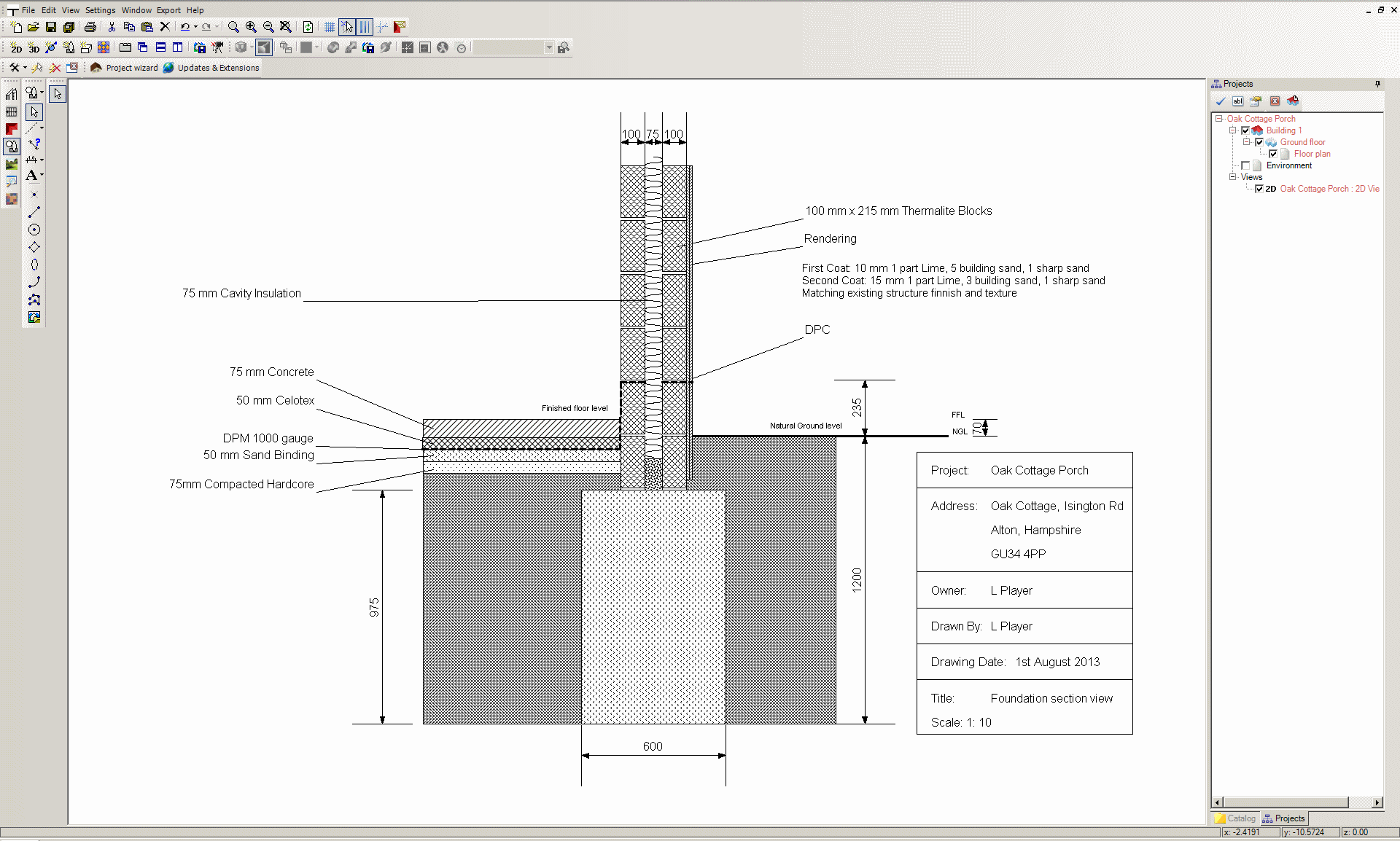 Sketches
Photographs
... more coming soon!