Visual Building Download Instructions
See Visual Building Install Instructions

See Visual Building License Instructions
These download instructions are applicable to all versions of Visual Building.
1.1 Download from Email
If you have received a Visual Building Download email it will contain a link to the Visual Building Downloader. Click on the Visual Building Downloader link to initiate the download.

1.2 Download from Website
If you do not have this email, you can download the Visual Building Downloader from the download section of the Visual Building Forum.
1.2.1 If you download from the website, you must be registered AND logged in otherwise you will see the Access Denied message:
1.2.2 If you see the Access Denied message, please login.
1.3 Download Comfirmation
After clicking on the download link in the email or the Website Forum, Windows will comfirm with you that you wish to download this file.
Click the Save File button and the download will start.
The downloader is a small file which will download the larger Visual Building Install file.
Click the Save File button to save the Downloader file.
1.4 Anti Virus Program activation
If you have an Anti Virus program active, this may notify you of the status of the file. This will vary depending upon your Anti-Virus program.
Some Anti-Virus programs may notify you of a possible problem relating to the file being new. This is due our constant updating of our files.
See our detailed explanation concerning false positive reports from Anti Virus programs
If you are concerned of any other potential virus reports, please email our customer care with details of the message and the Anti Virus program used.
1.5 Locate and Run the Downloader
The downloader will then be saved in your default Download folder. The downloaded file can be located in different ways depending upon your Windows version and Browser version. The default download folder location is C:\Users\YOURNAME\Downloads, but you or your browser may have modified this.
Locate the downloader and double click on it and select Run if asked.
1.6 The Downloader
The downloader is a small 300K program that will manage the download of the much larger Install program. For slow connections you can stop and start the download at any time. Fast connections will take a few minutes (e.g. 20 minutes on a 10 mb broadband).
The Visual Building Downloader will then locate the large Visual Building Installer on our server and give you the option to select a location to download to. The default download destination is C:\Users\YOURNAME\Documents\Downloads, but you can change this. When ready to download click on the Next button.
The Visual Building installer will then download. This will take from 3 minutes to 30 minutes, depending upon your download speed, and the dialog display will give you an indication of the time remaining. You can pause and restart the download if you need to.
1.7 Download Completes
When the downloader has completed downling the Visual Building Install file, it should start automatically.
If it does not start automatically locate the install file in
C:\Users\YOURNAME\Documents\Downloads
and run it.
On completion of theVisual Building Install file downloading or on running it your Anti Virus program may activate warning you that the file is new.
1.8 Start the Visual Building Installation
Please see Visual Building Install Instructions
Download Help
The Visual Building Downloader consists of a small file that you download and run on your computer. This small download manager will allow you to download the large Visual Building install files, allowing you to define where to save the file and pause / restart if required.
When you receive the Visual Building Downloader as a link, click on it to activate it and you will then be presented with the following dialog, where you have the option to change the destination of the download file. The default path is MyDocuments\Downloads.
If you want to change the download location, click on the File button and you will be presented with a dialog where you can specify the destination. To download to your desktop, (which is always easy to find), simply click on the Desktop button.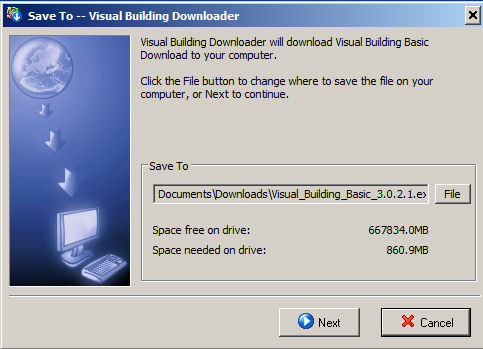 Click on Next to continue.
The Installation file will then download giving you an estimated time based on the file size and your internet speed. If you need to cancel or pause the download, click on the appropriate button.
Using the Options dropdown you can interrupt the download and continue later. If this option is selected a download restart link is saved to your desktop.
The Download Help link is a link to this page.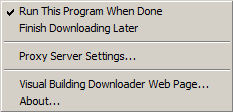 If the download is interrupted and you need to restart, the Visual Building Downloader will give you the options to continue where stopped/paused or to restart the download.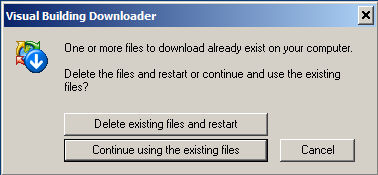 When the Visual Building installation file is download it will start automatically. The installation file will then walk you through the installation steps for your Visual Building product. The Visual Building install file will be located in MyDocuments/Downloads unless you chose to save it elsewhere prior to downloading.
Notes on Anti Virus programs.
Some less informed Anti-Virus programs will identify either the Visual Building Downloader or the Visual Building product installation file as a potential threat. Providing that you use only the links from an email from us, or the links from our web site the downloaded files are safe and virus free. If your Anti Virus program decides to automatically delete the downloaded files then you will need to disable your anti virus program for the duration of the download.
All download files are located within the download area of the Visual Building Forum, which you will need to login (free) in order to access.
Visual Building License Instructions
See Visual Building Download Instructions
See Visual Building Install Instructions
Please note that these license instructions are appropriate for:
Visual Building Basic
Visual Building Professional
Visual Building Premium
We aplogise if these simple instructions are verbose, but this is for users that have never extracted a file from an email before. Competent users need only follow the instruction within the software.
3.1 Start Visual Building
Until Visual Building is licensed it will run in trial mode for 7 days. When in trial mode you have access to all features.
If Visual Building is not licensed the following dialog will display.
Click on the Request license button
3.2 Request License
So that we can send you a license key, we will need your unique serial number, which is displayed in the Serial Nr field.
Please note that the serial number is normally 8 blocks of 4 characters in this format:
xxxxx-xxxx-xxxx-xxxx-xxxx-xxxx-xxxx-xxxx
3.3 Request License via email
Click on the Request via e-mail drop down button.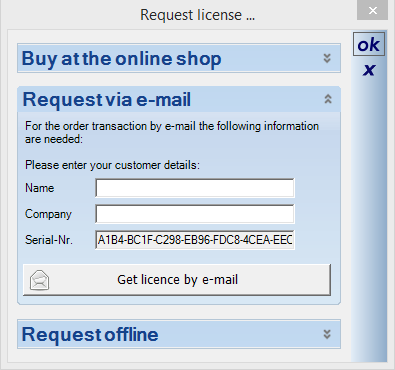 This will display a panel to allow you to enter your Name (required) and Company Name(if appropriate).
When you have entered the data click on Get license by e-mail button, which will then activate your email program.
3.3.1 Activate Outlook or other Email client
If you have email capability on the computer you are installing on and an email client that will reacty to such a request, then click on the Get license by e-mail button.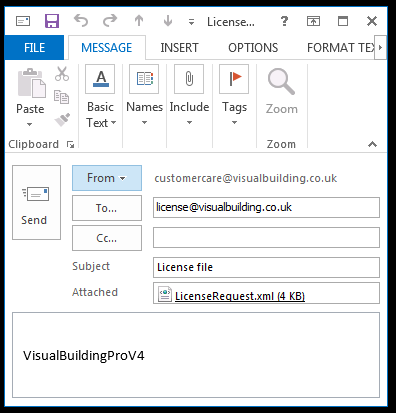 The above image is from Outlook, but your email client program may look different.
This will automattically create an email with the license request, which you should sent to This email address is being protected from spambots. You need JavaScript enabled to view it.
For your information the information that you send is contained in the small xml file and comntains data similar to the above.
If successful you can ignore step 3.4 and proceed to step 3.5
3.4 Request License via email from another Computer
If you do not have an email client that will respond to the previous step, then click on the Request Offline drop down button (the arrows on the right end). This will display a panel to allow you to enter your Name (required) and Company Name(if appropriate). Click the Copy information to clipboard button to copy the details to your clipboard.
3.4.1 Start your Email Program
Manually start your email client and paste the contents of the clipboard into the email and email to This email address is being protected from spambots. You need JavaScript enabled to view it.
3.4.2 Information Required
If you are sending the email from another computer or device then the information we require is:
Visual Building Version (Professional or Premium)
Your Name
Your Comany Name (if appropriate)
Serial Number
We will respond to your license request within 24 hours during working days, however, please allow for weekends and public holidays.
3.5 Receiving your License Key
You will receive the License Key email which will have a file attached- this is your license key. Save this file to your desktop.
Please note that you can only read the .key file using Visual Building License Panel. If you attempt to read it using any other program, or double click on it, Windows will generate an error saying it can not open the file.
3.5.1 Start Visual Building
Start Visual Building and you will be presented with the License Panel:
3.5.2 Click Read License File button
In the Visual Building License Panel click the Read License file button and this will activate the File brose dialog window:
3.5.3 Navigate to Desktop Folder
Click on the Desktop folder in the left pane and the contents of the desktop will be desplayed in the right pane, where you will find the .key file (or an *.xml file for version 5).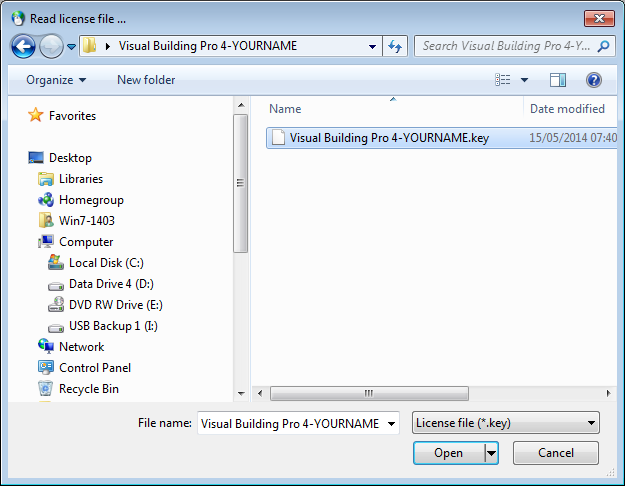 3.5.4 Select .Key file
Select the .key file (or .xml) and then click on the Open button.
Visual Building will now read in the license file, and your Visual Building is now licensed.
3.5.5 Enjoy using your licensed Visual Buildding
You can now discard the .zip file, folder and .key file from your desktop.
4. Problems
4.1 License is for a different program
If you receive such an error, its possible that you are trying to license a different version. For example you installed Visual Building Professional but purchased a Visual Building Premium license. This error may also occur if you installed an older version of Visual Building.
Please make sure that you requested a license for the same version that you have installed.
4.2 Windows cant open this file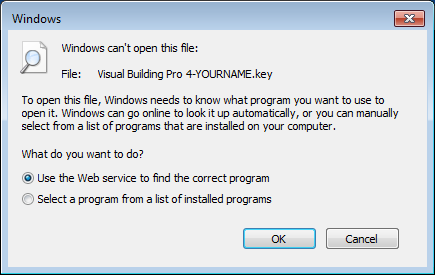 You will get this error message if you double click on the .key file or attempt to open it with any other program. Please go to step 3.5.2 and read the key in using Visual Building's license panel.
Newsletter
Visual Building v5 is now released. (20th July 2014). The following shows the main new features, but an overview of all features is listed here.

64 Bit Version
Previous versions of Visual Building were 32 bit programs, and were therefore limited to running in 32 bit mode, even if you had a 64 Bit hardware and a 64 Bit Windows. This is why Visual Building installed in Program Files (x86) on a 64 Bit system. If you have a 64 Bit System then Visual Building v5 will now be installed as a 64 Bit application and acquire all the performance advantages of a 64 Bit application. This is especially of importance for large projects that now have access to all your available RAM.

Applicable to: Visual Building Basic v5, Visual Building Professional v5 and Visual Building Premium v5

User Defined Fill
As of Visual Building Premium v5, the Visual Building Professional and Premium versions have extended 2D fill properties. Wherever you previously had the option to fill a 2D area from the limited Windows 2D pattern list, you can also easily now create your own patterns from 2D symbols.
This image shows a tile fill that can be applied to a 2D elevation view.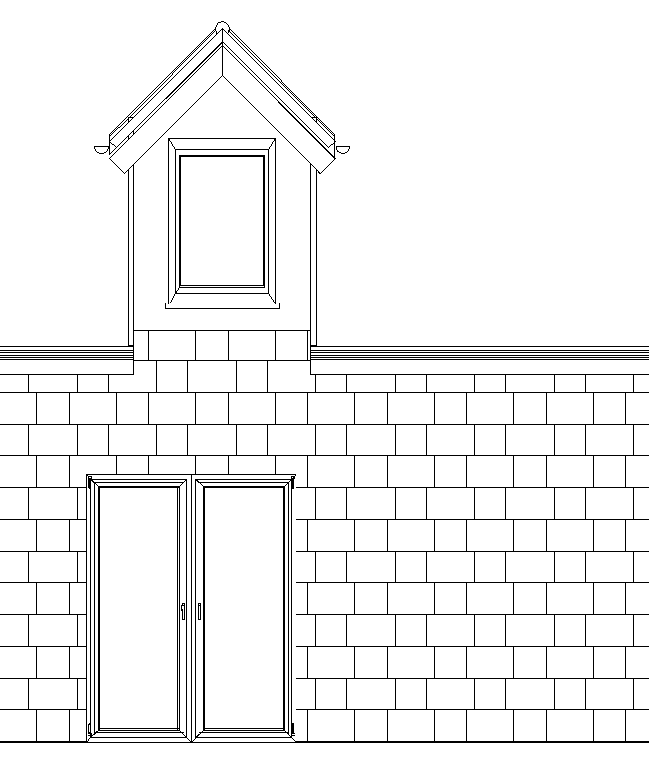 This image shows brick fill pattern applied to a 2D elevation view.
This image shows a floor surface filled with a 2D fill pattern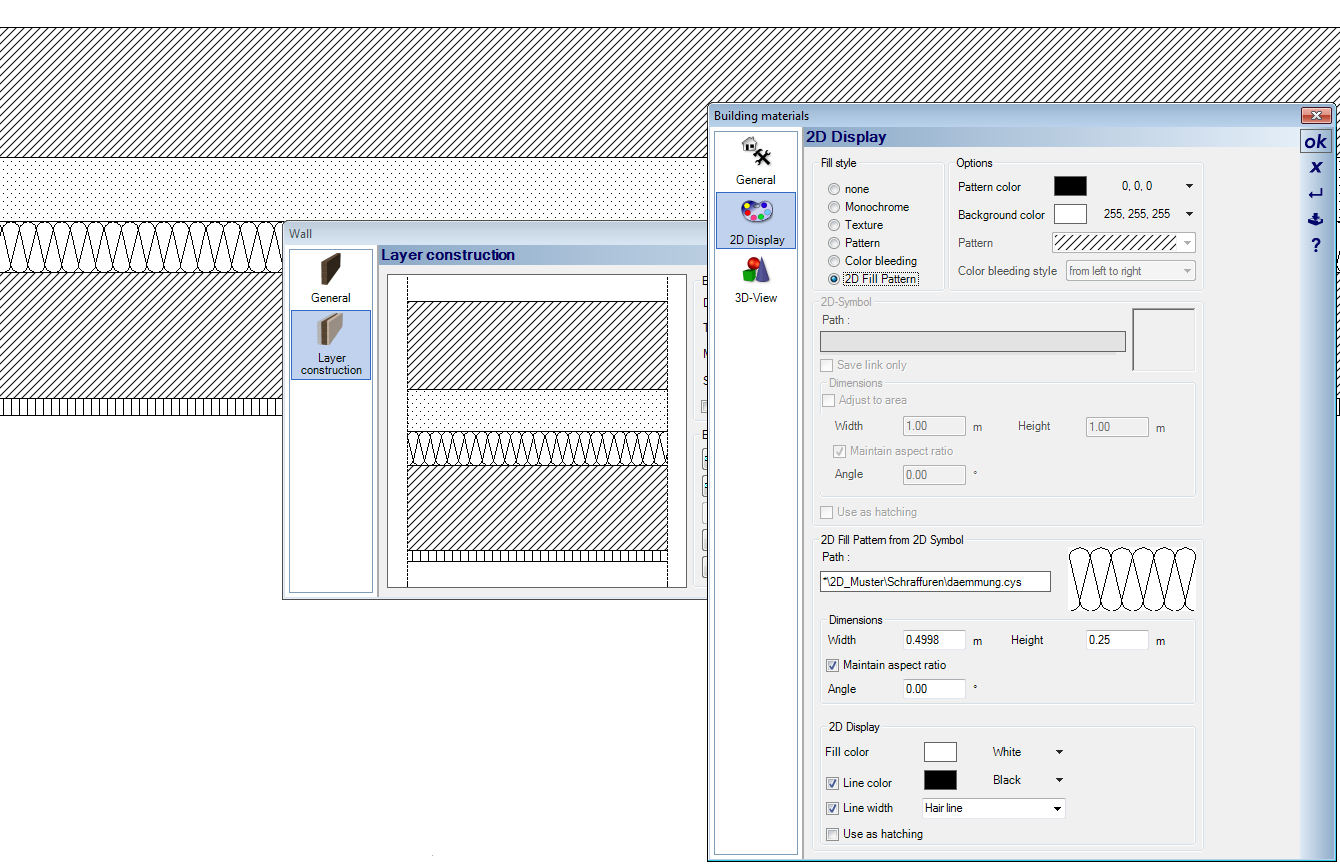 This image shows a wall layer with a insulation fill pattern
This image shows a floor layer with a insulation fill pattern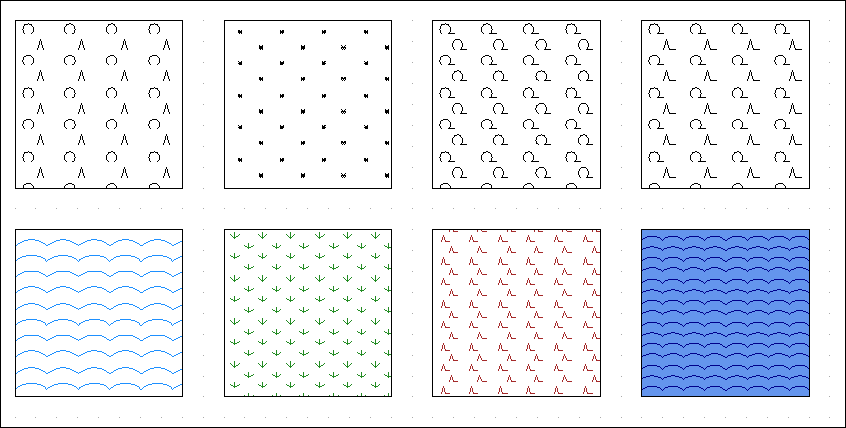 This image shows various terrain fill patterns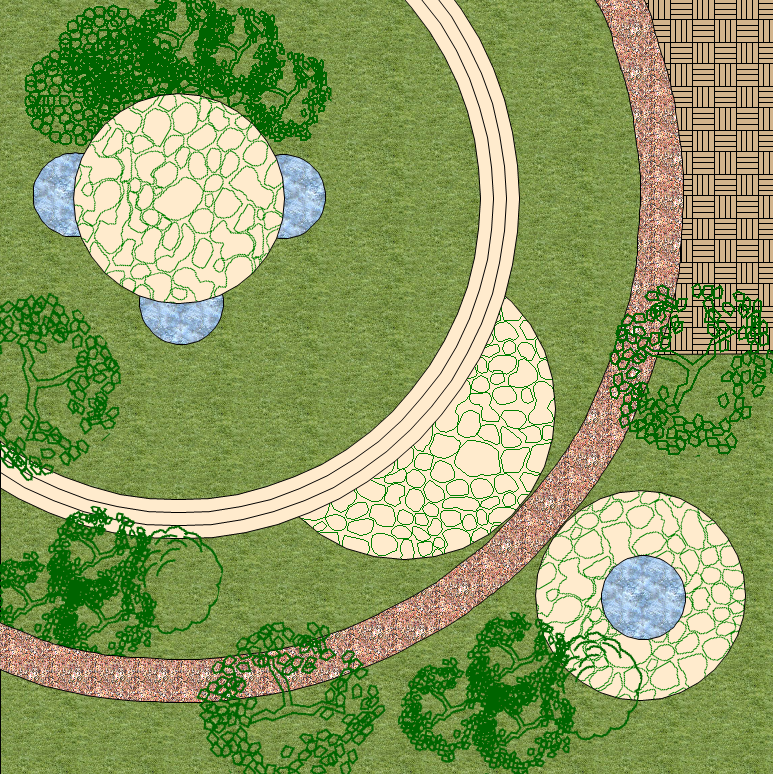 This image shows a 2D garden plan with area filled

Applicable to: Visual Building Professional v5 and Visual Building Premium v5

Multi Lingual Version
Visual Building v5 user interface is supplied in the following languages as standard, for both the Ribbon and Toolbar user interface. You can switch between languages without the need to reinstall. Note that while the software user inteface and dialogs are trannslated into multiple languages, the online help is available only in English, German and French, and the main pdf documentation is in English.

English
French
German
Hungarian
Italian
Dutch
Polish
Russian
Slovak
Spanish

Applicable to: Visual Building Basic v5, Visual Building Professional v5 and Visual Building Premium v5

Update Policy: All updates are free for 1 year, so if you purchased any version of Visual Building after July 1st 2013, you are entitled to a free update. This also includes upgrades, so if you upgraded your Visual Building after July 1st 2013, you are also entitled to the free update.

Upgrades: If you upgrade your Visual Building Lite, Visual Building Basic, or Visual Building Professional, you will receive the upgraded version v5.0.0.1 release.

Please see Upgrades and Updates for costs and options.

Please note that Visual Building Premium v5 will require a new license key. Previous v4 license keys will not work with v5.

Download Visual Building v5 versions here
Solar Support
We provide all our technical support via email and depending upon work load do try to answer all support emails within 48 hours. We appreciate that users of Visual Building Solar Designer many need fast support response, especially if you need to complete a customer's quote.
We can offer you more detailed additional support that allows you to jump the normal support queue.
If you require additional support for example: an unusual roof design, for adding a new solar panel into the catalogue, or support in creating a new report template then we can help you. We can give you answers to your possibly unique questions.
Also as a Solar Support member you get to download any new standard Solar Panel that we create. Unless sponsored by a manufacturer these panels may not contain any additinal information other than product name, dimensions and nominal power. Panels created or sponsored by an installer may not be suitable for general use as they may contain links and pdf data specific to the installer.
Solar support is an annual subscription service available for only £99 per year per license supported. (That's less than 0.28p per day!).
Also Solar Support members have unique access to our design team who can create additional solar panels or report templates for you at the following low cost fees:
| | | |
| --- | --- | --- |
| Solar Panel | £10 | Create new panel, including dimensions product description, nominal power |
| | | product web link, manufacturers link, and pdf |
| Report template | £25 | Create new template with your logo, address and technical layout of your choice |
Support
There are several sources of technical support for Visual Building.
1. Please check the online Visual Building User Manual. The online version is updated on a regular basis and can be viewed here. It is better to use this version than the pdf originally supplied or the built in help system.
2. Checkout the online Visual Building Training Course which contains many tricks and detailed explanations on many tools and how to use them..
3. Search the Visual Building Forum
You can search the form using the forum search tool or alternatively you can use the more powerful Alexa-Visual Building toolbar to search both the website and forum.
If you still cant find the answer to your question then email Visual Building's Customer Care using the contact form.
Diagnostics
If your support query concerns an unexplained response or a crash, you should also email to us the diagnostic log for Visual Building.
1. If your problem concerns a specific project, then please email us that project. If the problem is not specific to any one project then create a new project and try and repeat the problem.
2. In the Help tab - Diagnos group, locate the Diagnostics tool. activating the Diagnostic tool will display 3 diagnostic tools:
Start Project Diagnostic - If your problem is specific to a single project, this will help you to resolve.
Show Log File - This will show events prior to your problem.
Test Graphic Hardware - If your problem is graphic related, then you should run this diagnostic,
3. Select Show Log File. This will then display the diagnostic log file. You can send this log file direct to technical support but please insert correct email address: customercare @ visualbuilding.co.uk (remove spaces).
4. If for any reason you can not start Visual Building, then locate the diagnostic log file manually and email it to us. This diagnostic log file is called app.txt and is located in My Documents/Visual Building Basic (or Visual Building Pro or Visual Building Premium).
5. If your problem relates to a specific project then attach the project to the email.
Visual Building Evaluation
First you should identify which version of the software you wish to evaluate.

We have created this chart to give you an idea of which versions are used for different tasks. Please use the following link to help you decide which version you wish to evaluate. Which version?

You can also compare the features for each version using our Feature Comparison chart.

If you are unsure which version is suitable for your use, we suggest you download and evaluate Visual Building Basic. Most of our demos and tutorials were made using this version.

You may also want to check the hardware specifications required. Most hardware running Windows 8, Windows 7, Vista and XP is suitable.

To download any of the versions you must be registered and logged in to the forum. You log in at the top of forum page:


Now that you are logged in, you can now select the software version to download. Click on the link and follow the instructions for the Download Manager:

Visual Building Lite (not available)
Visual Building Basic
Visual Building Professional
Visual Building Premium
Visual Building Solar Designer

If these links do not work it means you are not logged in.

Next:How to Install Visual Building evaluation software