Visual Building Download Instructions
See Visual Building Install Instructions

See Visual Building License Instructions
These download instructions are applicable to all versions of Visual Building.
1.1 Download from Email
If you have received a Visual Building Download email it will contain a link to the Visual Building Downloader. Click on the Visual Building Downloader link to initiate the download.

1.2 Download from Website
If you do not have this email, you can download the Visual Building Downloader from the download section of the Visual Building Forum.
1.2.1 If you download from the website, you must be registered AND logged in otherwise you will see the Access Denied message:
1.2.2 If you see the Access Denied message, please login.
1.3 Download Comfirmation
After clicking on the download link in the email or the Website Forum, Windows will comfirm with you that you wish to download this file.
Click the Save File button and the download will start.
The downloader is a small file which will download the larger Visual Building Install file.
Click the Save File button to save the Downloader file.
1.4 Anti Virus Program activation
If you have an Anti Virus program active, this may notify you of the status of the file. This will vary depending upon your Anti-Virus program.
Some Anti-Virus programs may notify you of a possible problem relating to the file being new. This is due our constant updating of our files.
See our detailed explanation concerning false positive reports from Anti Virus programs
If you are concerned of any other potential virus reports, please email our customer care with details of the message and the Anti Virus program used.
1.5 Locate and Run the Downloader
The downloader will then be saved in your default Download folder. The downloaded file can be located in different ways depending upon your Windows version and Browser version. The default download folder location is C:\Users\YOURNAME\Downloads, but you or your browser may have modified this.
Locate the downloader and double click on it and select Run if asked.
1.6 The Downloader
The downloader is a small 300K program that will manage the download of the much larger Install program. For slow connections you can stop and start the download at any time. Fast connections will take a few minutes (e.g. 20 minutes on a 10 mb broadband).
The Visual Building Downloader will then locate the large Visual Building Installer on our server and give you the option to select a location to download to. The default download destination is C:\Users\YOURNAME\Documents\Downloads, but you can change this. When ready to download click on the Next button.
The Visual Building installer will then download. This will take from 3 minutes to 30 minutes, depending upon your download speed, and the dialog display will give you an indication of the time remaining. You can pause and restart the download if you need to.
1.7 Download Completes
When the downloader has completed downling the Visual Building Install file, it should start automatically.
If it does not start automatically locate the install file in
C:\Users\YOURNAME\Documents\Downloads
and run it.
On completion of theVisual Building Install file downloading or on running it your Anti Virus program may activate warning you that the file is new.
1.8 Start the Visual Building Installation
Please see Visual Building Install Instructions
Download Help
The Visual Building Downloader consists of a small file that you download and run on your computer. This small download manager will allow you to download the large Visual Building install files, allowing you to define where to save the file and pause / restart if required.
When you receive the Visual Building Downloader as a link, click on it to activate it and you will then be presented with the following dialog, where you have the option to change the destination of the download file. The default path is MyDocuments\Downloads.
If you want to change the download location, click on the File button and you will be presented with a dialog where you can specify the destination. To download to your desktop, (which is always easy to find), simply click on the Desktop button.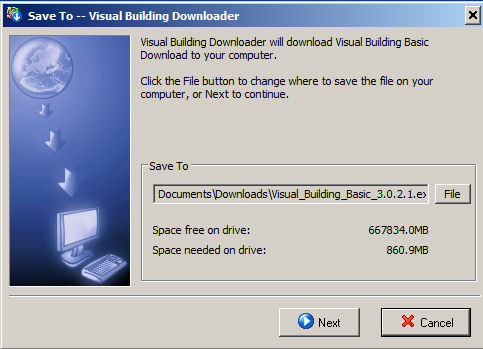 Click on Next to continue.
The Installation file will then download giving you an estimated time based on the file size and your internet speed. If you need to cancel or pause the download, click on the appropriate button.
Using the Options dropdown you can interrupt the download and continue later. If this option is selected a download restart link is saved to your desktop.
The Download Help link is a link to this page.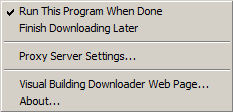 If the download is interrupted and you need to restart, the Visual Building Downloader will give you the options to continue where stopped/paused or to restart the download.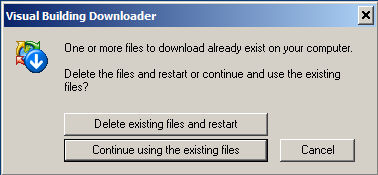 When the Visual Building installation file is download it will start automatically. The installation file will then walk you through the installation steps for your Visual Building product. The Visual Building install file will be located in MyDocuments/Downloads unless you chose to save it elsewhere prior to downloading.
Notes on Anti Virus programs.
Some less informed Anti-Virus programs will identify either the Visual Building Downloader or the Visual Building product installation file as a potential threat. Providing that you use only the links from an email from us, or the links from our web site the downloaded files are safe and virus free. If your Anti Virus program decides to automatically delete the downloaded files then you will need to disable your anti virus program for the duration of the download.
All download files are located within the download area of the Visual Building Forum, which you will need to login (free) in order to access.
Visual Building License Instructions
See Visual Building Download Instructions
See Visual Building Install Instructions
Please note that these license instructions are appropriate for:
Visual Building Basic
Visual Building Professional
Visual Building Premium
We aplogise if these simple instructions are verbose, but this is for users that have never extracted a file from an email before. Competent users need only follow the instruction within the software.
3.1 Start Visual Building
Until Visual Building is licensed it will run in trial mode for 7 days. When in trial mode you have access to all features.
If Visual Building is not licensed the following dialog will display.
Click on the Request license button
3.2 Request License
So that we can send you a license key, we will need your unique serial number, which is displayed in the Serial Nr field.
Please note that the serial number is normally 8 blocks of 4 characters in this format:
xxxxx-xxxx-xxxx-xxxx-xxxx-xxxx-xxxx-xxxx
3.3 Request License via email
Click on the Request via e-mail drop down button.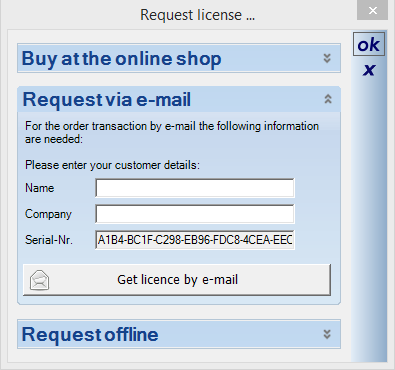 This will display a panel to allow you to enter your Name (required) and Company Name(if appropriate).
When you have entered the data click on Get license by e-mail button, which will then activate your email program.
3.3.1 Activate Outlook or other Email client
If you have email capability on the computer you are installing on and an email client that will reacty to such a request, then click on the Get license by e-mail button.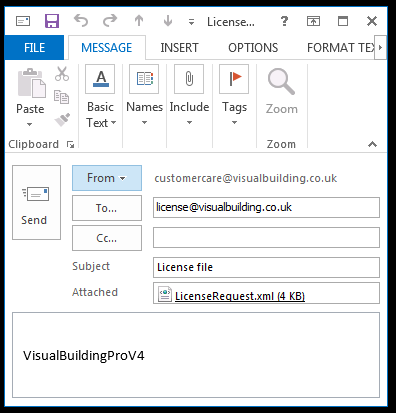 The above image is from Outlook, but your email client program may look different.
This will automattically create an email with the license request, which you should sent to license@visualbuilding.co.uk
For your information the information that you send is contained in the small xml file and comntains data similar to the above.
If successful you can ignore step 3.4 and proceed to step 3.5
3.4 Request License via email from another Computer
If you do not have an email client that will respond to the previous step, then click on the Request Offline drop down button (the arrows on the right end). This will display a panel to allow you to enter your Name (required) and Company Name(if appropriate). Click the Copy information to clipboard button to copy the details to your clipboard.
3.4.1 Start your Email Program
Manually start your email client and paste the contents of the clipboard into the email and email to license@visualbuilding.co.uk
3.4.2 Information Required
If you are sending the email from another computer or device then the information we require is:
Visual Building Version (Professional or Premium)
Your Name
Your Comany Name (if appropriate)
Serial Number
We will respond to your license request within 24 hours during working days, however, please allow for weekends and public holidays.
3.5 Receiving your License Key
You will receive the License Key email which will have a file attached- this is your license key. Save this file to your desktop.
Please note that you can only read the .key file using Visual Building License Panel. If you attempt to read it using any other program, or double click on it, Windows will generate an error saying it can not open the file.
3.5.1 Start Visual Building
Start Visual Building and you will be presented with the License Panel:
3.5.2 Click Read License File button
In the Visual Building License Panel click the Read License file button and this will activate the File brose dialog window:
3.5.3 Navigate to Desktop Folder
Click on the Desktop folder in the left pane and the contents of the desktop will be desplayed in the right pane, where you will find the .key file (or an *.xml file for version 5).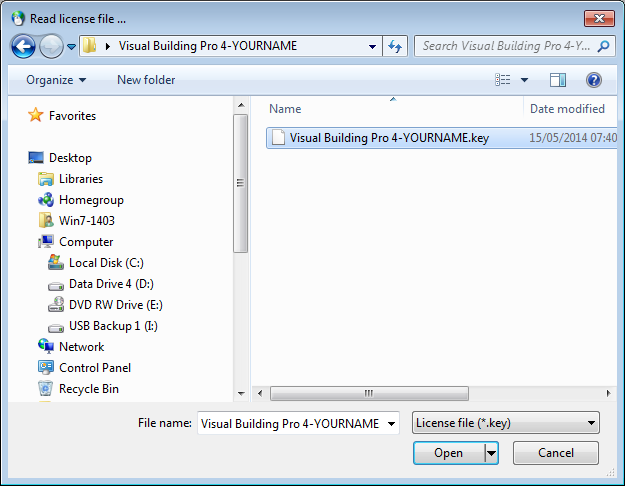 3.5.4 Select .Key file
Select the .key file (or .xml) and then click on the Open button.
Visual Building will now read in the license file, and your Visual Building is now licensed.
3.5.5 Enjoy using your licensed Visual Buildding
You can now discard the .zip file, folder and .key file from your desktop.
4. Problems
4.1 License is for a different program
If you receive such an error, its possible that you are trying to license a different version. For example you installed Visual Building Professional but purchased a Visual Building Premium license. This error may also occur if you installed an older version of Visual Building.
Please make sure that you requested a license for the same version that you have installed.
4.2 Windows cant open this file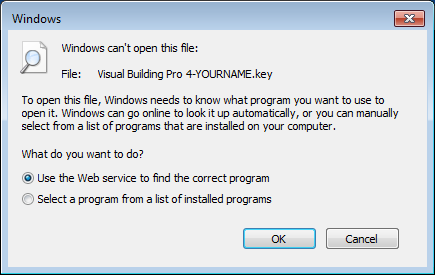 You will get this error message if you double click on the .key file or attempt to open it with any other program. Please go to step 3.5.2 and read the key in using Visual Building's license panel.