We are pleased to supply the following details about Visual Building, its services and it products.
Customer Services
If you have any question or problem concerning our service please contact Customer Services using the following form.
Links
You may find the following links of interest....
www.planningportal.gov.uk/buildingregulations/approveddocuments/downloads
Estate Agent Resource Links
Self Build Resource Links
www.the-self-build-guide.co.uk
www.mortgageadvisers.which.co.uk
Other Visual Building Websites
Solar Panel Links
Accounting Software
1&1 Affiliate Links
We use 1&1 to host our websites and are very pleased with the price and service and do not hesitate to recommend 1&1 for your own use. If you need any advice or support on hosting your own domain name. email, blog etc then please enquire.
Visual Building Toolbar
New Business Start-ups
If you are looking to start up a new business (or to extend the services of an existing business) then you should evaluate some of the ideas here. For all new business the most valuable assets are time and money. Visual Building is inexpensive and has a short learning curve, and so will save you lots of time, lots of money and will hopefully soon be helping you to earn money.

No matter how much we emphasise the ease of use of Visual Building to our own target markets, there will be a high percentage of people and companies that would prefer to assign the use of such tools to a third party individual or company.

For example many estate agents would prefer to spend all their effort in selling properties and prefer to delegate the plan drawing requirements outside. Many of these outside bureaus advertise they use expensive tools such as 3D Studio Max, which takes years to master and costs x15 more than Visual Building. These costs have to be recovered and can only be recovered by charging higher rates for their work.

If you are intending to start a new career or business then you could do no better than investing a small amount of time and money into Visual Building. Many of these ideas could be internet based allowing you to advertise your service and operate all communication via email.

Here are some business start-up ideas using Visual Building:
Support Service for Estate Agents
Create 2D plans and 3D models for residential, commercial and retail properties.

Support Service for Legal Profession
Lawyers involved in drawing up property leases are required to supply plans identify contractual elements within the lease.

Fire Escape Plans
All public buildings, commercial and industrial properties must display a Fire Escape Plan.
See Fire Escape Plans as an example

Bathroom Design
There are many companies and individuals involved specifically with bathroom design. Many local authorities may fund or partially fund a bathroom re-design in order to allow the elderly to stay in their home. This redesign requires plans and the 3D visualisation is a great way to explain to the elderly how the final project will look. Many companies involved with this bathroom design would prefer to be selling their services and implementing the fitting and so may prefer to contract the actual plan drawing to a 3rd party.

Kitchen Design
There are many Kitchen fitting companies that would benefit from a 2D planning and 3D visualisation service. Most of these companies use standard modules, but if you invest a little time in creating their standard modules for visualisation in 2D and 3D, you can quickly build up your library of custom kitchen components.

Self Builders
In 2009 there were an estimated 20,000 self build projects. It's possibly less now, but many self builders look for cheap alternatives to putting their ideas down in the form of a 2D model / 3D plan to present to an architect or builder.
Many self builders also have existing 2D plans that they want to see as a 3D model.

Builders
Many building companies would like to present their clients a quote together with a general 2D plan and visualisation to ensure both client and builder agree on the basic design prior to involving surveyors and architects.
Training
There is still a vast number of people that want to learn how to use such software, but lack the very basic computer skills. If you have the ability to teach, then follow our lead and create training tutorials that you can publish on Youtube. Eventually you will become professional enough to command a fee for your skill both for online and one-to-one training.

Manufacturer's marketing
Many furniture manufacturers will see the advantage of having their products included within Visual Buildings object database. This can also apply to door and window and other building component manufacturers. All such objects are then freely available to all other Visual Building users, and these objects contain product information and manufacturer / supplier web site links that will assist the manufacturer in marketing their products. The creation of such objects may be beyond most users to create, but we can advise you on each requirement.
See Safety Signs Online as a marketing example
None of these suggestions require you to have any professional qualifications, and it is important not to overstate your abilities or qualifications. Your ability will can be quickly demonstrated in your first job, which if performed in a fast, inexpensive and professional manner may lead to more jobs.
How we can assist
To help you achieve your goals, we have created a new FREE service that lists all companies that use Visual Building and can offer such services. This is contained within a database supplied within Visual Building and will also be presented online.
We will also give you FREE access to our online training to ensure that you can get your business idea up and running fast.
Partners
If you are a manufacturer or supplier of products into the home interiors, building products, building services or offer a consulting service that relates to building design, construction or maintenance then you can advertise your products or services within Visual Building. We have an extensive catalogue of products and components used by our designing users and you can now ensure that these Visual Building users are also aware of your products and services.
For a limited period we are offering a FREE advertising slot for products and services. This offer is limited to 1 product or service for each company. We also will limit the number of free adverts in each product genre. This advertising is entireley at our discretion.
If your product is already represented as a 3ds object, then it may be possible to include your product within our 3D object catalogue.
If you are a supplier of surface coverings (carpets, tiles, bricks, roof tiles etc ) and your product can be represented by a texture file then it may be possible to include your product textures within our texture catalogues.
Technical Support
If you have any question concerning Visual Building products, either Pre Sale or Post Sales, please contact Customer Care using the contact form link below..
However, first please search the Visual Building Forum, where you will find hundred of questions / answers.
Most of questions being asked are answered with a link to a forum entry, and if your question is new and we think interesting to other users we will also add that to the forum (but anonoymously).
Other Visual Building information sources:
There are also 70+ tutorial videos that demonstrate most of the features found in Visual Building.
The 500+ page Visual Building documentation can also be viewed online or downloaded.
There is also the first in a series of Visual Building Training courses now available.
We applogise for using the Captcha system in the Contact Form , but if we dont, we get 1000's of unwanted spam emails from our fans in China.
Visual Building Ltd
Visual Building is a registred trademark of Visual Building Ltd. All rights reserved.
Our mission is to provide software tools that we would like to use. We believe that designing building is a serious matter but can also be enjoyable, and we want to enhance both the serious tasks together with the enjoyable aspects. We all have experienced how using complex software detracts from the enjoyment when even the simplest tasks cannot be easily achieved, and so it is important that our software is easy to learn and use, irrespective of previous experience. We also want to deliver affordable software tools that are within reach of everyone.
We are proud of the number of visitors to our web site, and would like to thank each and every one of you for taking the time to visit and read about Visual Building Ltd and its products.
Visitor statistics:

Unique visitors per month 2012

Unique visitors per month 2013 YTD


The People
1970 – 2000
Les Player is a qualified engineer (sub surface weapons systems) and should be no stranger to those who familiar with the original Atari consoles/computers/software. Les was the European Technical Director at Atari from 1982 to 1990 and was responsible for establishing the software community for the Atari ST and introducing the Atari ST into Europe.
Continuing with the Atari theme, in 1990, Les became MD and part owner for the GFA company (in UK , Germany and USA), which was responsible for introducing GFA Basic and GFA CAD for the Atari ST. GFA Basic was also introduced to the Amiga and Windows.
Les Player then went on to establish Data Player Ltd in 1993 (trading as Data Becker UK), localising and launching 100+ software applications into the consumer market. One of the most successful products that Data Becker published was a product call 3D Walkthrough / 3D Home Designer. This was developed in 1994 and based upon a German software product called Arcon.

2000 – 2010
Les recognised the potential in Arcon and established Online Warehouse Ltd in 2000 specifically to localise, develop and sell Arcon and Arcon related products.
In 2001, 3D Architect Software Ltd, was established by Les, with the objective of becoming more responsible for further development of Arcon associated products, allowing Online Warehouse Ltd to concentrate on sales and marketing. Online Warehouse attended most of the Build It and Home Building & Renovation shows from 2001 until 2005, and through meeting with thousands of self-builders, architects and interior designs, adapted the Arcon software to their specific needs. It was Les Player's desire to establish Arcon as the definitive software tool for self-builders in the UK.
In 2003, Les Player sold the assets of both 3D Architect Software Ltd and Online Warehouse Ltd to Eleco Plc , who at the same time acquired the rights to Arcon from the German development company MB Software. As a result of this sale Les joined Eleco to continue the management and development of the Arcon products. Arcon was rebranded as 3D Architect Software and later as the Grand Design Software range, both product ranges defined by Les. Both 3D Architect Software Ltd and Online Warehouse Ltd were later merged with Eleco Software Ltd, all part of the Eleco plc group.


Arcon was still based on old 1990's technology and so in 2008 Les Player initiated a new Arcon development by Eleco Software Ltd using the latest .Net technology, with an anticipated completion plan for 2011. Unfortunately, in 2010, as a result of the recession, Eleco Software Ltd cancelled the new Arcon development and Les left Eleco, soon after establishing Visual Building Ltd.

2011
Visual Building Ltd was established in 2011, and has been working with the German development team headed by Thomas Kubena also previously responsible for Arcon development, but using .Net technology and the latest development tools, to ensure better performance, improved user interface and improved work flow methods, that results in Visual Building products. Visual Building is available as both a 32 and 64 bit application to give maximum performance.

2012
Visual Building Ltd acquires My Floor Plan Designer and continues to develop it as Visual Floor Planner
With over 20 years of experience with working with older software products such as GFA CAD, 3D Home Designer and Arcon, Les believes that Visual Building is the best value and solution for creating building designs, associated plans and visualisations.
You are welcome to checkout our background and experience at LinkedIn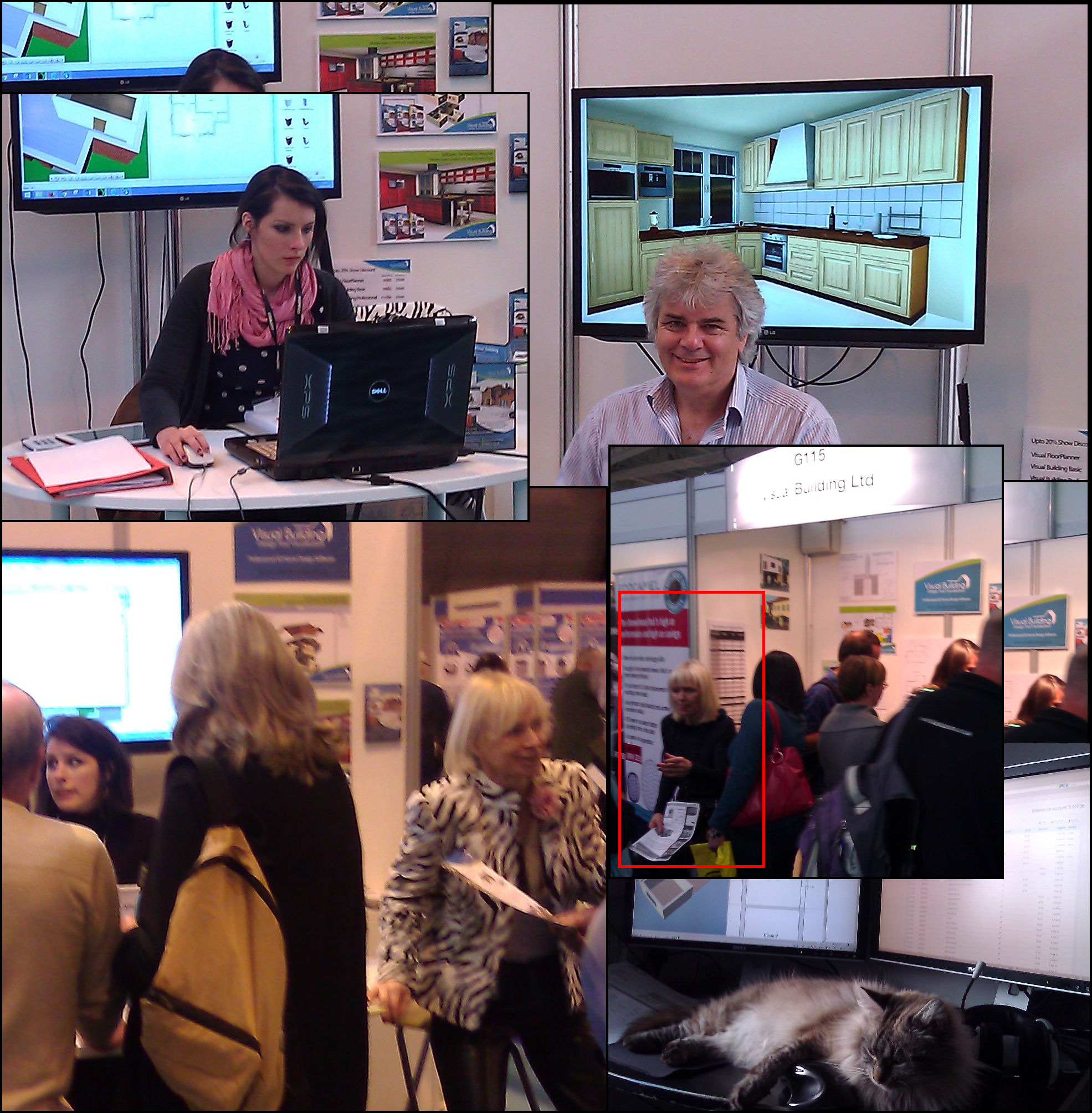 Simmi Player (Marketing), Amelia Player (3D Graphics) and Les Player (Everything Else) demonstrating Visual Building. Not forgetting to mention Suki...
2015
We are sad to report that Les was hit with Leukemia in March 2015. As a result Les will take a back seat and concentrate on technical support until he is well enough to return.
You may follow Les' battle with Leukemia on www.lesplayer.com
Visual Building ® is a Registered Trademark of Visual Building Ltd