Visual Building Features
Here follows a list of the main features of Visual Building. The complete list of features is much longer:
Import
DS Roof Import
Arcon XML
2D DXF
2D DWG
Export
.cyg 2D object
.3ds object (3D Studio)
.cob object (Truespace)
.dxf (3D DXF)
.wrl (VRML)
.lw, .lwo, .lwm, .lwb (Lightwave)
.obj (Wavefront)
Export timber lists in PDF, RTF, Excel or HTML format
Views
Multiple 2D and 3D views, tabbed or arranged layout
True cross section views
Full screen view mode
Plan layout mode- multiple views on single sheet
Dimensions
Metric
Imperial (decimal and fractional)
Dimension in 2D and 3D views
Multiple dimension styles
Catalogues
2D objects includes large 2D symbol library
3D objects includes large furniture library, and construction items, doors, windows
Large texture library
Large materials library
All catalogues are extendible
Windows
Catalogue of standard windows sizes and styles
Window design tool for addtional styles and sizes or bespoke windows.
Doors
Catalogue of standard door sizes and styles
Roof
Comprehensive roof designer supports: Hipped, Mansard, Gable, Half hipped
Roofs support valley gutters, guttering, ridge tiling
Extensive range of functions for roofs and dormers
Timber list export
Skiylights
Dormers
Multiple dormer types: Shed, Flat, Hipped, Triangular, Trapezoid, Barrel, Bat
Terrain
3D landscaping with predefined landscape forms- hills, plateau, walls, trench
Set terrain height using height points or contours
Other
Design and construction of buildings
Design of garden and landscape
Construction in any view in 2D plan view, section view or 3D view
Polygonal winding staircases (solid or wooden)
Polygonal landing staircases (solid or wooden)
Construction aids, eg 3D/2D guidelines
Snap-to functions for 3D objects
Accurate input option using numerical input
Detailed visibilities for each view using level of detail feature
Comprehensive catalogue of 3D objects, materials, textures and 2D symbols
Create individual 2D symbols for text blocks, graphic elements, legends
Project management using the project viewer, copy floors, create layers
Settings for sun and moon for the illumination and shadow calculations
Ray tracing, anti-aliasing; create images from observation points during processing
Many 2D drawing functions
Assistants for copying properties and for select and delete operations
Structural layers for walls, ceilings and floors
User definition of structural layers for inclusion in the catalogue
Predefined banisters for staircases
Edit models using materials and textures
Define user light sources, spot lighting, ambient and directional light sources
Scale objects
Surface editor for surfacing areas and sub-areas, editing in 2D and 3D
Automatic recognition of wall openings
Analysis of surfaced areas with respect to area and material requirements
Merge Roof
You can now merge two individual roof sections. The merged roofs can also be edited as individual roofs.
Create 2 separate roof sections
And then merge them into a single roof
Note that after the roof sections have been merged, the roof cladding and the roof wood construction are also merged.
The advanced roof editing feature is available in Visual Building Premium and Visual Building Solar Designer
Metal Roof Cladding
You can now apply 3 different types of metal roof cladding: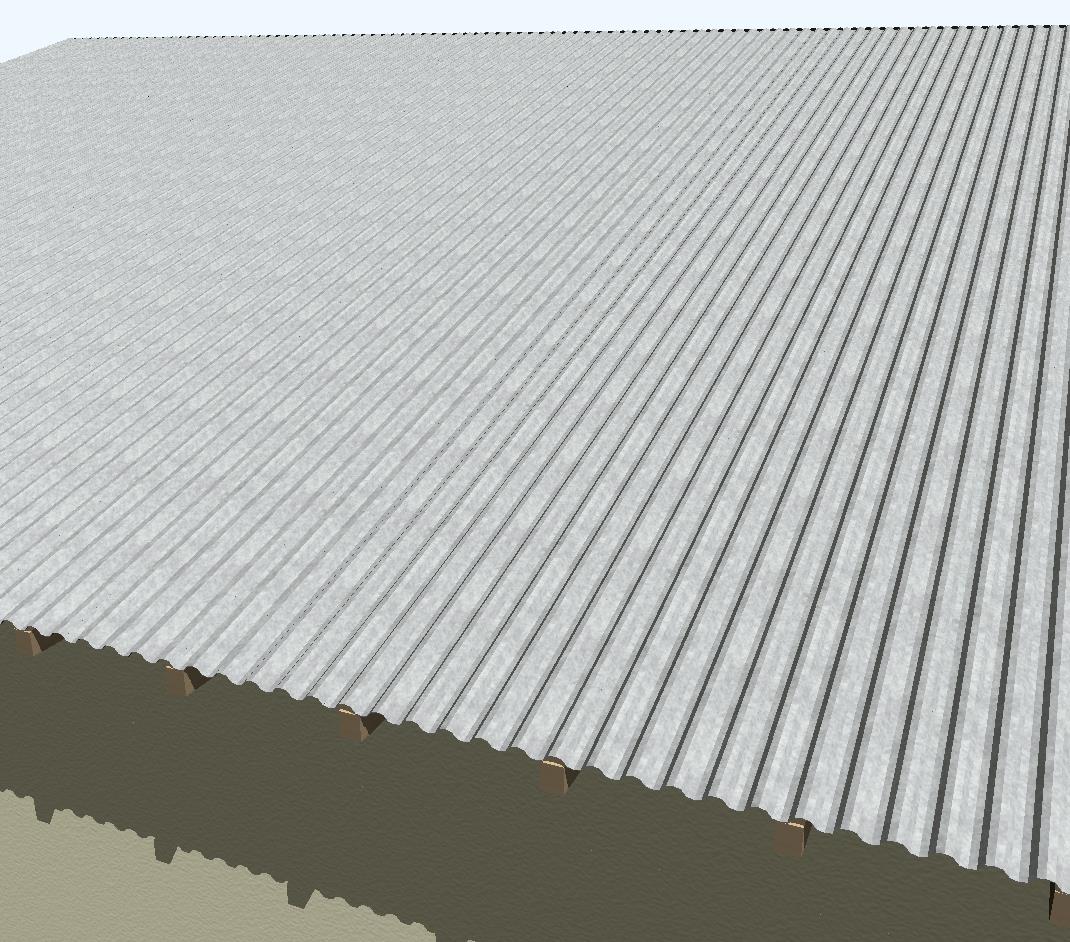 Round corrugated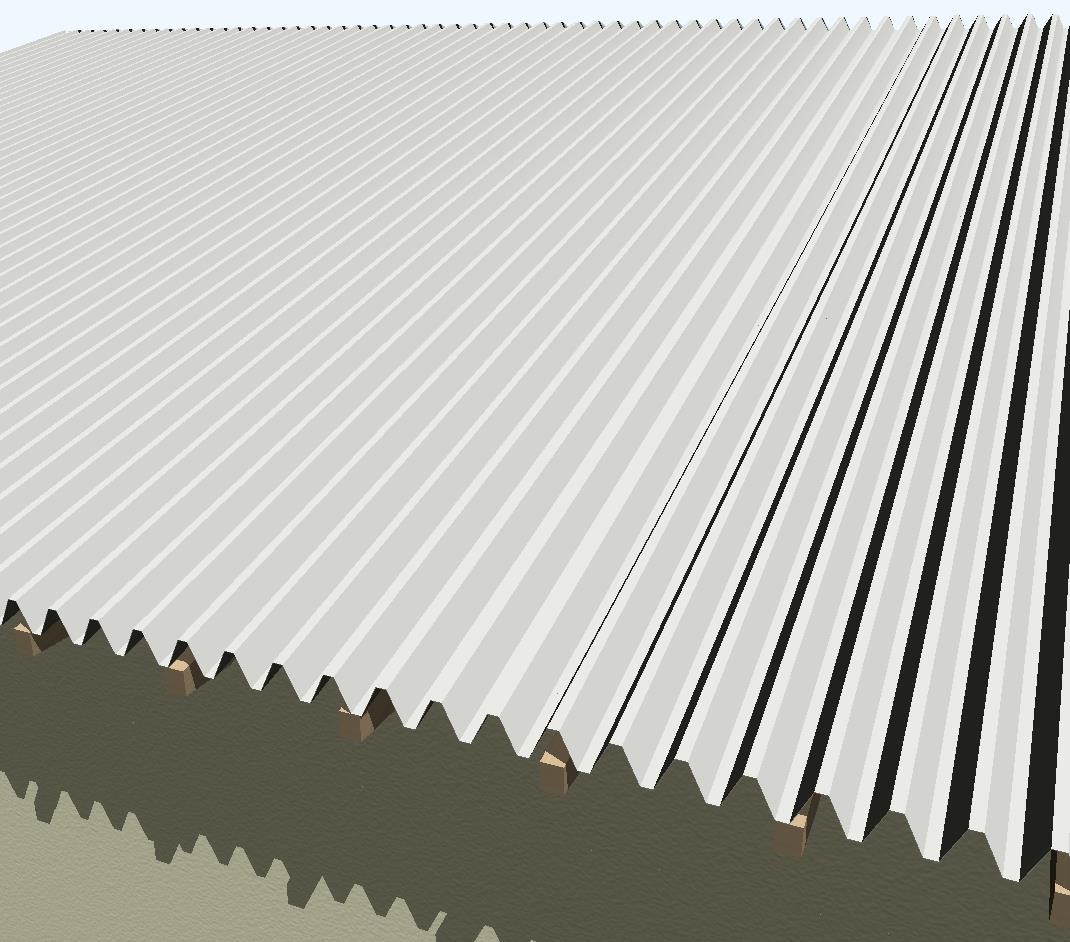 Trapezoid corrugated
Raised seam corrugated
This new feature is of interest to those designing industrial/commercial properties. It is also of interest to demonstrate the look of solar panels when mounted on such currugated structures.
The corrugated roof structure feature is part of Visual Building Professional, Premium and Solar Designer.
Roof Cut-Out
You can now enter multiple rectangular openings or cutouts in the roof. These roof cutouts can also be selected and deleted.
This is a new feature to Visual Building v4 and is applicable to Visual Building Professional, Premium and Solar Designer.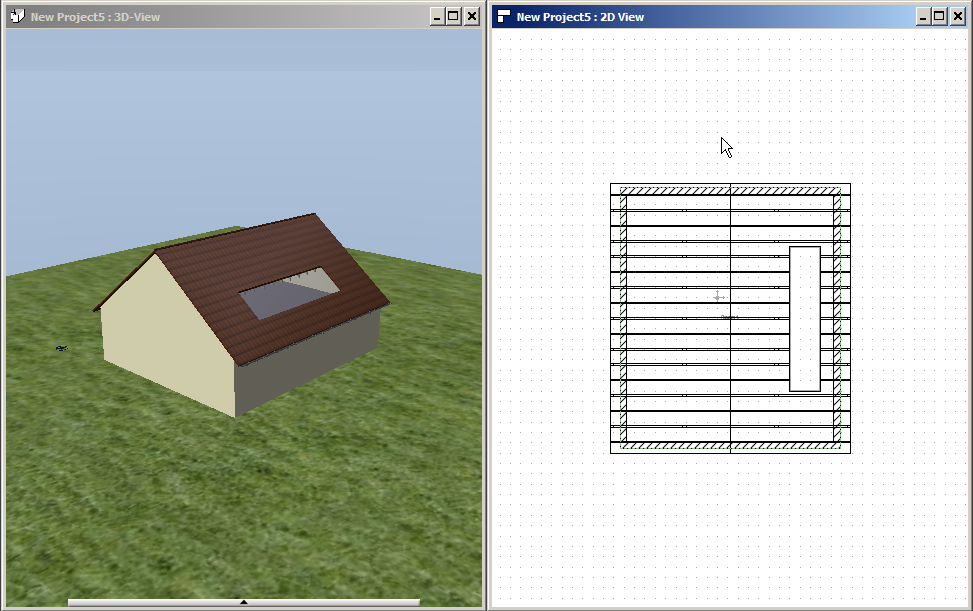 The roof cut-out can be applied and viewed in both 2D and 3D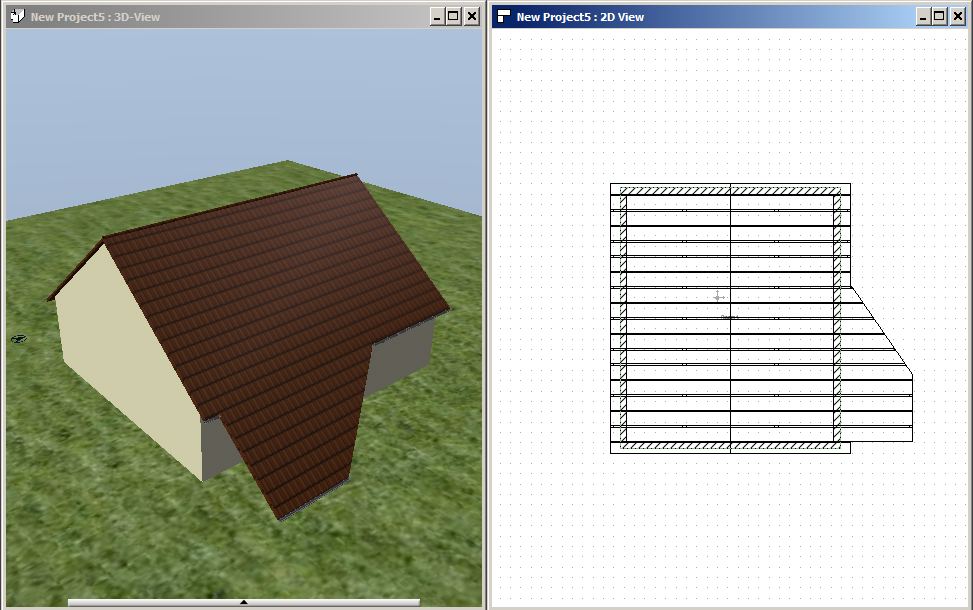 The cut-out tool can also be combined with the roof extension tool
Roof Types
Visual Building has a comprehensive roof designer that supports many roof styles including the following roof types:
| | |
| --- | --- |
| Gable end construction | Gable end |
| Half hipped roof construction | Half Hipped roof |
| Mansard Roof Construction | Mansard Roof |
| Extended Mansard Roof Construction | Extended Mansard Roof |
| | |
With these standard roof styles you can create many different Simple Roof Shapes and more Complex Roof Shapes
Visual Building now enables you to create multiple sided (e.g hexagonal) roof designs as well as circular.
Visual Building Premium also allows you to merge roof structures thus allowing mor advanced roof designs.