Health and Safety Resources
Here are links to companies and products related to Health and Safety.
---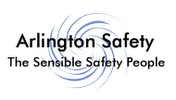 Arlington Health and Saftey has worked together with Visual Building Ltd for several years, and we are pleased to announce the continued working relationship between both companies.
Arlington Health and Safety is owner managed and located in the heart of Norfolk. With over 25 years experience in health and safety and in all kinds of industry we are well prepared to handle most health and safety situations.

Arlington Health and Safety are pround of not only having years of senior management experience but, also having extensive hands on experience at the sharp end of industry where good health and safety can make a big difference to employee attitude, company profile and profitability.
---