Download Help
The Visual Building Downloader consists of a small file that you download and run on your computer. This small download manager will allow you to download the large Visual Building install files, allowing you to define where to save the file and pause / restart if required.
When you receive the Visual Building Downloader as a link, click on it to activate it and you will then be presented with the following dialog, where you have the option to change the destination of the download file. The default path is MyDocuments\Downloads.
If you want to change the download location, click on the File button and you will be presented with a dialog where you can specify the destination. To download to your desktop, (which is always easy to find), simply click on the Desktop button.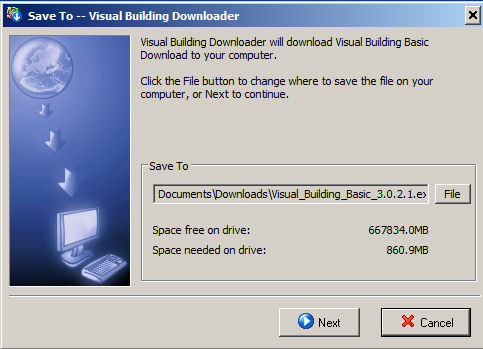 Click on Next to continue.
The Installation file will then download giving you an estimated time based on the file size and your internet speed. If you need to cancel or pause the download, click on the appropriate button.
Using the Options dropdown you can interrupt the download and continue later. If this option is selected a download restart link is saved to your desktop.
The Download Help link is a link to this page.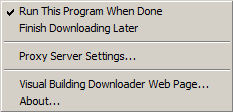 If the download is interrupted and you need to restart, the Visual Building Downloader will give you the options to continue where stopped/paused or to restart the download.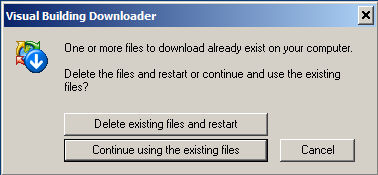 When the Visual Building installation file is download it will start automatically. The installation file will then walk you through the installation steps for your Visual Building product. The Visual Building install file will be located in MyDocuments/Downloads unless you chose to save it elsewhere prior to downloading.
Notes on Anti Virus programs.
Some less informed Anti-Virus programs will identify either the Visual Building Downloader or the Visual Building product installation file as a potential threat. Providing that you use only the links from an email from us, or the links from our web site the downloaded files are safe and virus free. If your Anti Virus program decides to automatically delete the downloaded files then you will need to disable your anti virus program for the duration of the download.
All download files are located within the download area of the Visual Building Forum, which you will need to login (free) in order to access.