The People 
1970 – 2000
Les Player is a qualified engineer (sub surface weapons systems) and should be no stranger to those who familiar with the original Atari consoles/computers/software. Les was the European Technical Director at Atari from 1982 to 1990 and was responsible for establishing the software community for the Atari ST and introducing the Atari ST into Europe.
Continuing with the Atari theme, in 1990, Les became MD and part owner for the GFA company (in UK , Germany and USA), which was responsible for introducing GFA Basic and GFA CAD for the Atari ST. GFA Basic was also introduced to the Amiga and Windows.
Les Player then went on to establish Data Player Ltd in 1993 (trading as Data Becker UK), localising and launching 100+ software applications into the consumer market. One of the most successful products that Data Becker published was a product call 3D Walkthrough / 3D Home Designer. This was developed in 1994 and based upon a German software product called Arcon.
 
2000 – 2010
Les recognised the potential in Arcon and established Online Warehouse Ltd in 2000 specifically to localise, develop and sell Arcon and Arcon related products.
In 2001, 3D Architect Software Ltd, was established by Les, with the objective of becoming more responsible for further development of Arcon associated products, allowing Online Warehouse Ltd to concentrate on sales and marketing. Online Warehouse attended most of the Build It and Home Building & Renovation shows from 2001 until 2005, and through meeting with thousands of self-builders, architects and interior designs, adapted the Arcon software to their specific needs.  It was Les Player's desire to establish Arcon as the definitive software tool for self-builders in the UK.
In 2003, Les Player sold the assets of both 3D Architect Software Ltd and Online Warehouse Ltd to Eleco Plc , who at the same time acquired the rights to Arcon from the German development company MB Software. As a result of this sale Les joined Eleco to continue the management and development of the Arcon products. Arcon was rebranded as 3D Architect Software and later as the Grand Design Software range, both product ranges defined by Les. Both 3D Architect Software Ltd and Online Warehouse Ltd were later merged with Eleco Software Ltd, all part of the Eleco plc group.
 
 
Arcon was still based on old 1990's technology and so in 2008 Les Player initiated a new Arcon development by Eleco Software Ltd using the latest .Net technology, with an anticipated completion plan for 2011. Unfortunately, in 2010, as a result of the recession, Eleco Software Ltd cancelled the new Arcon development and Les left Eleco, soon after establishing Visual Building Ltd.
 
2011  
Visual Building Ltd was established in 2011, and has been working with the German development team headed by Thomas Kubena also previously responsible for Arcon development, but using .Net technology and the latest development tools, to ensure better performance, improved user interface and improved work flow methods, that results in Visual Building products. Visual Building is available as both a 32 and 64 bit application to give maximum performance.

2012
Visual Building Ltd acquires My Floor Plan Designer and continues to develop it as Visual Floor Planner
With over 20 years of experience with working with older software products such as GFA CAD, 3D Home Designer and Arcon, Les believes that Visual Building is the best value and solution for creating building designs, associated plans and visualisations.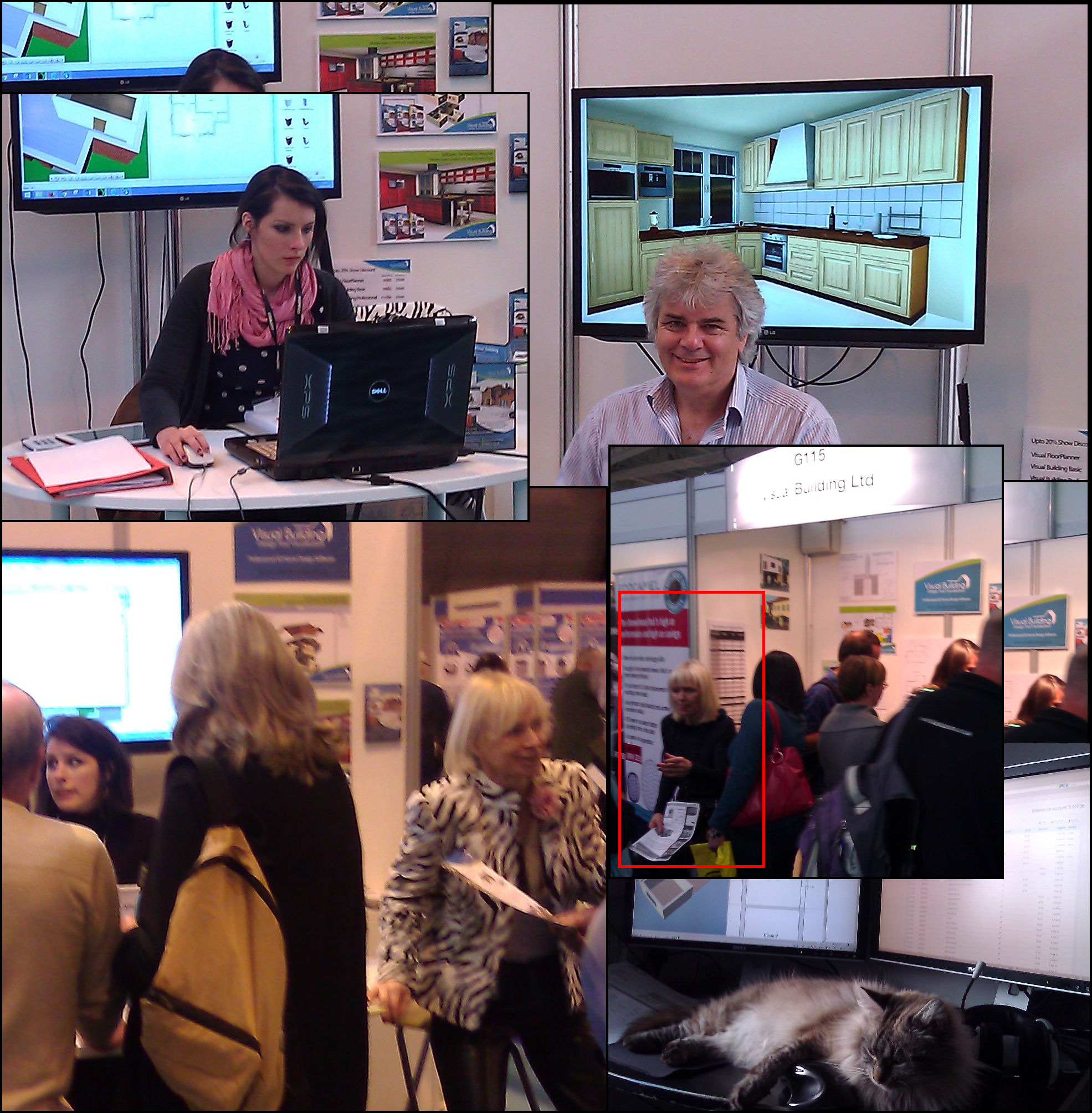 Simmi Player (Marketing), Amelia Player (3D Graphics) and Les Player (Everything Else) demonstrating Visual Building. Not forgetting to mention Suki...
2015
We are sad to report that Les was hit with Leukemia in March 2015. As a result Les will take a back seat and concentrate on technical support until he is well enough to return.
Visual Building ® is a Registered Trademark of Amelia Player