House Design Software
A specialist CAD tool for designing and visualising your home
Your dream home will come true with Visual Building. Our innovative CAD software is ideal for planning an entire building and getting the necessary building plans and 3D visualizations out of it. Floor plans of each floor contain all details such as windows, doors, stairs, the roof and much more. Interior design and garden layout is easier than expected..
3D functions allow you to visualize each of your drawn steps in a 3D view at the same time to see if your project changes correspond to your ideas. Our 3D house designer will help you to realize your own home on your Windows computer and work like an architect, stylish and comprehensive.
Visual Buildings architecture software offers you the best tools to design all details and making your home easy to set up. All that with just a single 3D Software. The best part is that you do not need any previous experience as an architect or graphic artist. Our intuitive and up to date user interface and tools makes the design of your architecture construction as well as interior design easier than expected. Using our 360 ° views and 3D presentation, you can also experience your house upfront and develop a great feeling for your visualized home.
Visual Building Basic
Has been developed as an easy to use design and visualisation tool for self builder,extentions..
£39.00


Special online offer



Visual Building PRO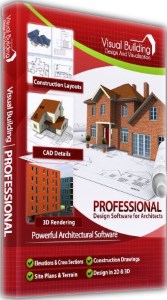 Used by all user groups specifically to create professional plans...
£99.00


Special online offer



Visual Building Premium
Our most powerful design and visualisation tool specifically created for ...
£149.00


Special online offer