Units - Feet / Inch - imperial display - fractions
In Visual Building you have multiple options to define the units and values you need for your project .
All necessary settings are available in our units dialog. To access these settings, create a new project. That activates the menus and functions
Now open the general settings dialog in our file menu. In a ribbon user interface version the file menu is on the green arrow button in the upper left corner.
On our Unit property page you find all available value types.
In most cases you will only change the value for a length, in our example from meters to feet.
At the bottom of the page are two additional options for imperial values and fractions.
Once you have made your settings save them as default with the button on the right side of the dialog. The new units settings are automatically used in all dialogs and numeric controls.
Dimensions are able to use their own values. That allows you to work with your preferred value type in your planning and show alternative units in your drawings. In our example we open the property dialog of a dimension line and activate the standard units checkbox.
Save this setting as default.
Visual Building Basic
Has been developed as an easy to use design and visualisation tool for self builder,extentions..
£39.00


Special online offer



Visual Building PRO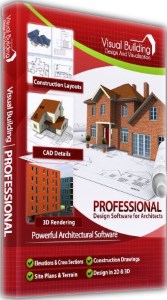 Used by all user groups specifically to create professional plans...
£99.00


Special online offer



Visual Building Premium
Our most powerful design and visualisation tool specifically created for ...
£149.00


Special online offer