Some examples of 3D building visualizations
These samples were generated from sample projects and services. They show an image that was calculated using raytracing, ambient occlusion and a medium antialiasing. You can also export images of this quality using the "Save current view as image" function without showing the software's user interface.
Examples of projects including multiple view types, floor plans, sections, elevations,...
These screenshots show sample projects including its views in one project file. In addition, individual representations of floor plans, sections, elevation views and detail drawings.
Some of the projects have been made by our international partners and customers and might show user interfaces, headlines and other text as proper names in other languages.
Examples of groups from our group catalogue
These screenshots show content and use cases from our group catalog. This includes, for example, finished garages or carports but also prepared groups for interior design, such as kitchenettes, kitchen islands, saunas, seating areas, fireplaces, etc. All of these elements were planned or put together by us using Visual Building and then saved to our group catalogue.
Special functions, modeling of 3D objects, timber frame construction plug-in,...
These screenshots show results of special features in Visual Building (PRO and PREMIUM Version). That includes 3D constructions with which you can model 3D objects yourself. Timber frame construction plug-in that automatically analyzes the entire project via a wizard and fills the walls with wooden studs (Premium Version only).
Visual Building Basic
Has been developed as an easy to use design and visualisation tool for self builder,extentions..
£39.00


Special online offer



Visual Building PRO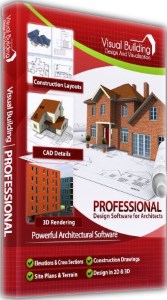 Used by all user groups specifically to create professional plans...
£99.00


Special online offer



Visual Building Premium
Our most powerful design and visualisation tool specifically created for ...
£149.00


Special online offer