Garage Extension Software
Visual Building was specially developed for the construction and design of buildings and this of course also includes garages.
As a complete architectural drawing software, Visual Building has all the tools required to plan garages down to the last detail. As a result, you do not only get an impression of your garage design, optionally also in combination with your main building, but also detailed garage floor plans, garage software with section views and elevations.
With our Visual Building versions you can design all types of garages, single garages and double garages in any garage layout, with a flat roof or individual roof structures in any shape. Simply drag and drop windows, doors or furnishings from the catalogue that are important when determining the space requirements.
Garage floor plans
Garages can either be planned adjoining to an existing building or as a stand-alone structure. When inserting your garage floor plan, you have two options.
- Individual input of the garage floor plan with walls, windows, doors, roof, ...
- or use our building wizard, with which you can generate the floor plan shape, walls and roofs in just a few steps and then simply place the almost finished garage in your project. After that add a garage door and optional windows.
With the standard functions of Visual Building, you can add dimensions to your garage floor plan.
Garage plans
Visual Building allows you to create PDF documents with accurate floor plans, section views, elevation views, 3D visualisations and other architectural drawing details. All 2D garage plans are automatically to scale and meet professional requirements if you intend to submit your drawings to local planning authorities.

Garage software, Basic features and advantages
As already described, here are some of the advantages of Visual Building when drawing garage floor plans:
- Draw the floor plan of your garage and the main building in a joint project and not individually
- In Visual Building everything is drawn to scale. You can set the scale for each 2D view as you like
- Create as many 2D views as required in a joint project.
- If necessary, create Section views and elevation views of your garage extension with just a few mouse clicks, everything you might need for planning application or to get a quote from your builder
- Garage floor plans usually also need dimensions. As a complete planning software, Visual Building offers you a variety of different dimensioning and display options.
Draw your own garage floor plans
- First, create a new project either with our project wizard or manually.
- A new project automatically creates a ground floor and inside a floor plan layer
- Edit the height of your floor if necessary
- If you would like to insert a title block on your garage plans then edit the project properties and insert name and address of planner, owner etc.. These values will automatically show up when you drop a title block 2D Symbol in a view
- While you insert walls keep an eye on the wall type and thickness and optionally the 2D representation of your walls. That avoids later changes.
- Add windows and garage doors from our catalogue
- When your floor plan is complete, insert a roof on your garage. If this is a flat roof made of concrete use a manual ceiling plate instead of our roof functions. For all other roof shapes insert a roof following your garage layout and edit roof side properties in our roof property dialog.
- Finish your drawings with dimensions and add 2D Symbols like sheet frames or title blocks via drag and drop from our 2D Symbol catalogue.
- Wherever you need help please check our guides menu, the video tutorials, manuals and our training course pdf. Or send us an email to customercare@visualbuilding.co.uk
Garage plan layout
When your garage floor plan is finished, simply drag ready-to-use 2D symbols into your 2D views and finalize the appearance of your garage plans. There are hundreds of 2D symbols in the catalogue, including sheet frames, title blocks, etc .

Garage design software
Design your garage in 3D with different materials and textures from our catalogues. This gives you an impression how the finished garage extension will look like and how it looks together with your main building.
Simply select a texture from the catalogue and drop it onto the desired surface in a 3D view. This not only applies to the walls of your garage but also to the garage roof, windows and doors, etc..

Garage roof design
With Visual Building you can design any roof for your garage, just like you would for a normal building. To do this, open the 3D preview in our roof editor dialog, select the side of the garage roof and edit the properties for each individual roof side.

Garage extension planner free trial version download
You can try out Visual Building versions before you make your decision. Simply register, login and download. Trial versions are fully functional and without restriction. Everything you draw during the trial phase can be completed in a licensed version if you decide to continue with our software products. If you have any questions during the trial period, just send us an email to customercare@visualbuilding.co.uk and we will help you.

Visual Building is the perfect Garage software for your project
Visual Building offers three different packages- a basic version and two professional variants - which build on each other. The program runs under all current Windows versions, both in 32 BIT and in native 64 BIT mode. Questions about the handling of our products are answered in detail in our support area and in various videos. If you can't find a satisfying answer for your questions, we are happy to answer all user questions by email. No matter if pre or post sales.

Visual Building Basic
Has been developed as an easy to use design and visualisation tool for self builder,extentions..
£39.00


Special online offer



Visual Building PRO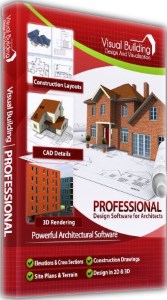 Used by all user groups specifically to create professional plans...
£99.00


Special online offer



Visual Building Premium
Our most powerful design and visualisation tool specifically created for ...
£149.00


Special online offer