Newsletter
Visual Building v5 is now released. (20th July 2014). The following shows the main new features, but an overview of all features is listed here.

64 Bit Version
Previous versions of Visual Building were 32 bit programs, and were therefore limited to running in 32 bit mode, even if you had a 64 Bit hardware and a 64 Bit Windows. This is why Visual Building installed in Program Files (x86) on a 64 Bit system. If you have a 64 Bit System then Visual Building v5 will now be installed as a 64 Bit application and acquire all the performance advantages of a 64 Bit application. This is especially of importance for large projects that now have access to all your available RAM.

Applicable to: Visual Building Basic v5, Visual Building Professional v5 and Visual Building Premium v5

User Defined Fill
As of Visual Building Premium v5, the Visual Building Professional and Premium versions have extended 2D fill properties. Wherever you previously had the option to fill a 2D area from the limited Windows 2D pattern list, you can also easily now create your own patterns from 2D symbols.
This image shows a tile fill that can be applied to a 2D elevation view.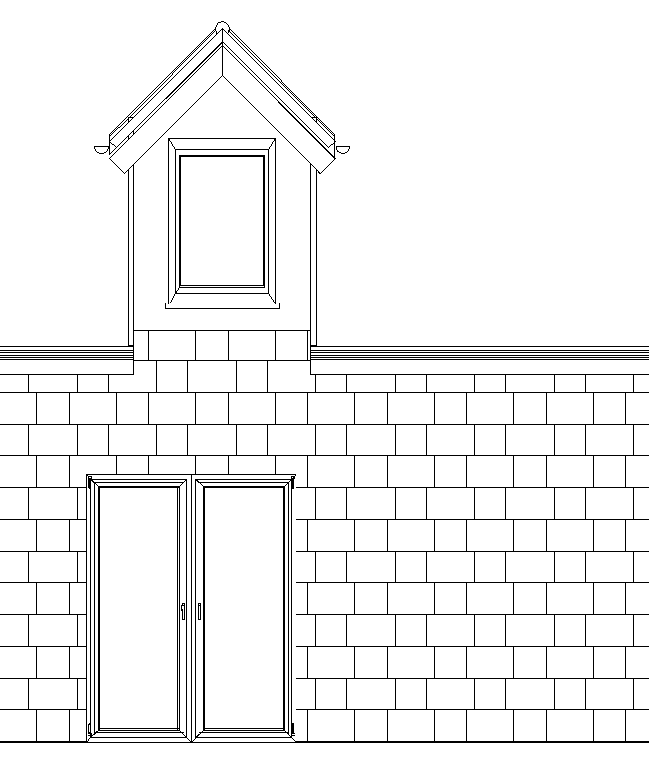 This image shows brick fill pattern applied to a 2D elevation view.
This image shows a floor surface filled with a 2D fill pattern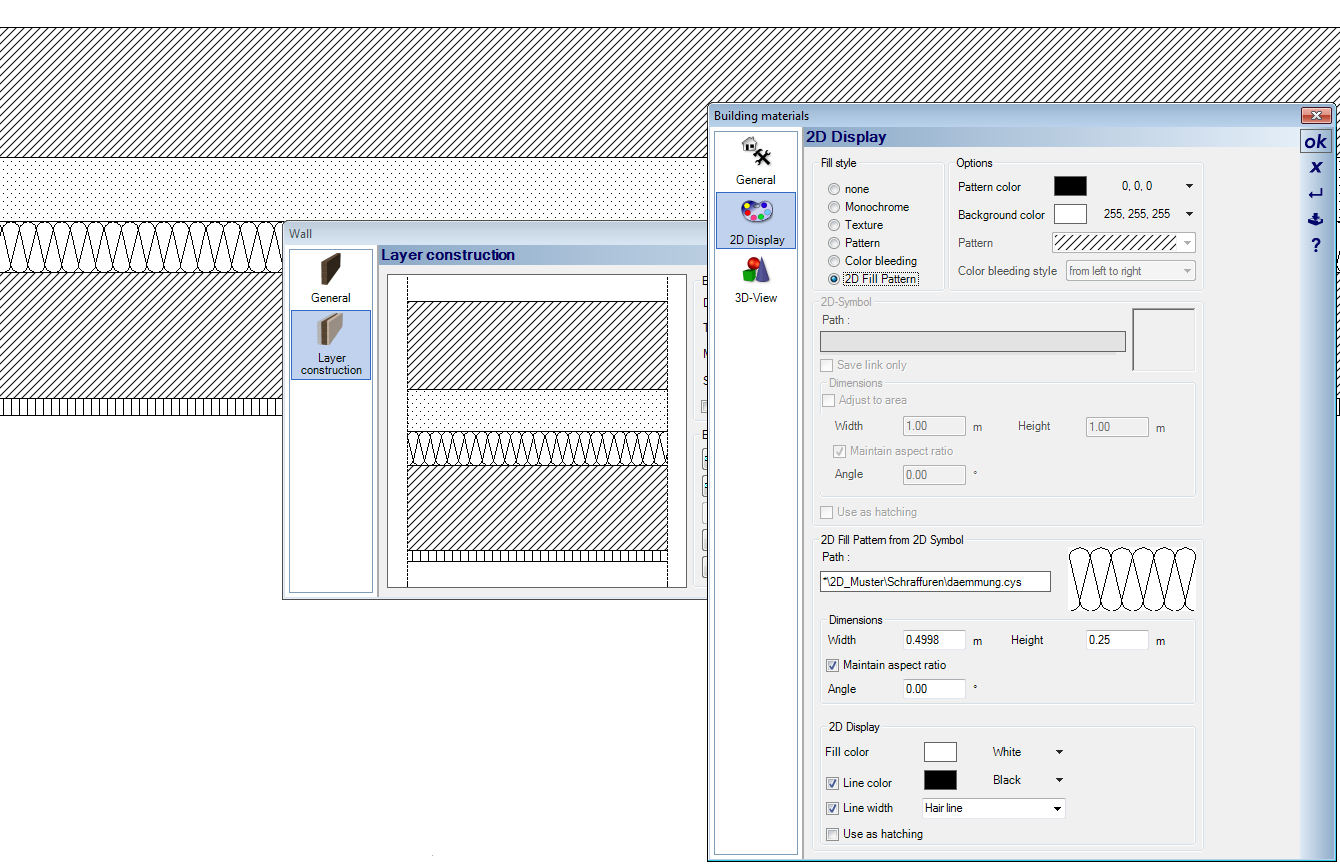 This image shows a wall layer with a insulation fill pattern
This image shows a floor layer with a insulation fill pattern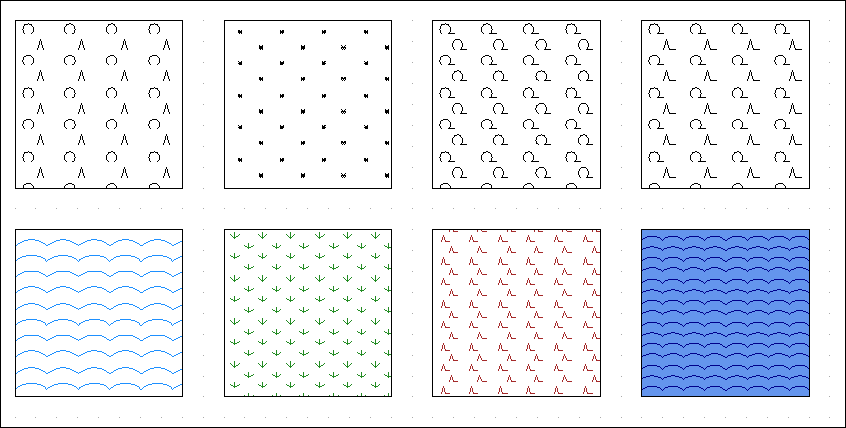 This image shows various terrain fill patterns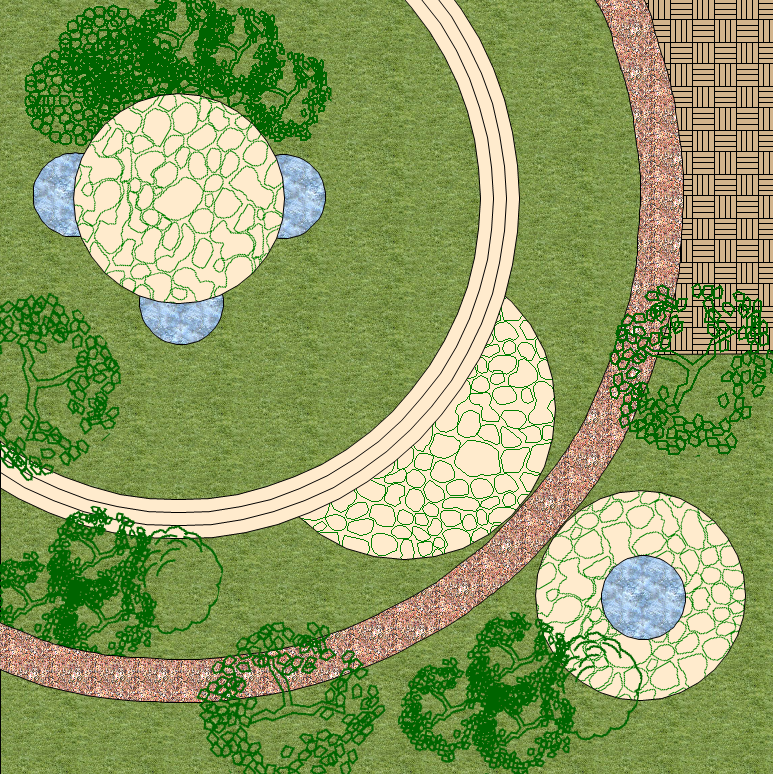 This image shows a 2D garden plan with area filled

Applicable to: Visual Building Professional v5 and Visual Building Premium v5

Multi Lingual Version
Visual Building v5 user interface is supplied in the following languages as standard, for both the Ribbon and Toolbar user interface. You can switch between languages without the need to reinstall. Note that while the software user inteface and dialogs are trannslated into multiple languages, the online help is available only in English, German and French, and the main pdf documentation is in English.

English
French
German
Hungarian
Italian
Dutch
Polish
Russian
Slovak
Spanish

Applicable to: Visual Building Basic v5, Visual Building Professional v5 and Visual Building Premium v5

Update Policy: All updates are free for 1 year, so if you purchased any version of Visual Building after July 1st 2013, you are entitled to a free update. This also includes upgrades, so if you upgraded your Visual Building after July 1st 2013, you are also entitled to the free update.

Upgrades: If you upgrade your Visual Building Lite, Visual Building Basic, or Visual Building Professional, you will receive the upgraded version v5.0.0.1 release.

Please see Upgrades and Updates for costs and options.

Please note that Visual Building Premium v5 will require a new license key. Previous v4 license keys will not work with v5.

Download Visual Building v5 versions here