Visual Building Professional:
The perfect Solution for building professionals

Design, Plan your dream home with accuracy

Import 2D DXF/DWG drawings

Easy To Use and Fast

Advanced 3D modeling tools

3D/ 2D cross Section views/ Elvationa views

Extended 2D Fill for Wall Surfaces (Cavity walls)

Create your own objects using are Advanced 3D modeling too

2D/3D Presentation layout tools, great for planning applications
Visual Building Professional: £100.00
| | | |
| --- | --- | --- |
| Visual Building Professional (Download version) | £100.00 | |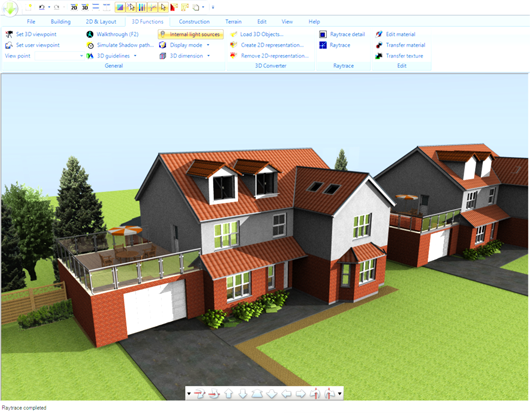 Visual Building Professional has been developed as a design and visualisation tool specifically for buildings. Unlike many generic CAD applications, Visual Building has been designed to allow you to resolve many problems associated with many forms of building - residential, commercial, industrial and even agricultural.
Visual Building Professional is an application suitable for use by many types of users: architects, builders, self-builders, property developers, interior designers, planners.
The Program

Visual Building Professional is developed from scratch with the latest object orientated technology using .Net and C# to ensure compatibility with the latest Windows operating system, unlike many competitive products that were designed and developed for older systems using old languages and methods.
Questions? If you have a question about this product please email customercare@visualbuilding.co.uk
Free Trial
Register and download a free trial today free trial
Hardware Requirements:
PC
Processor 1.8 GHz 1024 Mb Ram
Graphics card: 128 Mb
Hard Drive space: 2 Gb to install all components.
Internet access is required to receive updates

Visual Building will use a dual screen system if available.
Software Requirements:
Visual Building runs on Windows 7, Windows 8, Windows 8.1 and Windows 10. Windows RT (ARM based thin PCs) is not supported.

Visual Building v6 is supplied with both 32 and 64 bit versions, which is determined at installation time.

Visual Building is a graphics application and the more ram, and video ram available the better it will perform.
Compatibility Notes for Mac
Visual Building will run on a Mac using either Boot Camp or Parallels running Windows 7 or higher.
If you already have Windows 7 installed on your Mac, we suggest you download and try any of the trial versions of Visual Building. When satisfied your configuration is suitable for the trial version, then the licensed version will run.
More information concerning running Windows OS on a Mac can be found here.