Determine the north direction in your building planning
In each new project, the software also automatically creates a north arrow and thus determines the orientation of the planning. The north arrow is displayed in both 2D and 3D.
When you start planning, you should take care to get the orientation of the building exactly horizontal or vertical or at least one side and not align the building with the north arrow.
But the other way around, if necessary, turn the north arrow to suit later.
If you were to try to draw the building at an angle and leave the north arrow in the default orientation, this is possible, but makes inserting the floor plan much more difficult and unnecessary.
The north arrow is a separate element and is located on the ENVIRONMENT layer. It also has its own visibility and can be made visible or invisible in views.
In addition, the north arrow also controls the position of the building to the sun and subsequently the shadow calculation, both in real-time shadows and in raytracing.
This applies in connection with the properties of the 3D view on the Sun position page. Here you must first define the position of your building so that the calculation of the shadows works.
In addition to being able to position the north arrow via its properties dialog, you can also select and move it manually with the mouse when the ENVIRONMENT layer is active. See also our terrain article.
Visual Building Basic
Has been developed as an easy to use design and visualisation tool for self builder,extentions..
£39.00


Special online offer



Visual Building PRO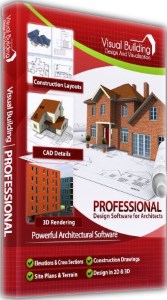 Used by all user groups specifically to create professional plans...
£99.00


Special online offer



Visual Building Premium
Our most powerful design and visualisation tool specifically created for ...
£149.00


Special online offer