House Extension Planner
Visual Building was specially developed for the construction and design of buildings and this of course also includes house extensions. A house extension planner is therefore a typical use case for all versions of Visual Building.
As a complete building construction software, Visual Building has all the necessary tools to plan house extensions down to the last detail. As a result, you will not only get an impression of the design of your 3D house extension, the additional living space, but also detailed house extension drawings.
Depending on the requirements and type of building extension your Visual Building project results in floor plan drawings, 2D section views and elevation views from any perspective. And also 3D visualizations of your planning. You can draw home extensions as a single room, e.g. for kitchens or bathrooms, as entire floors or buildings. You can also display neighbouring buildings and, if necessary, distances to your property boundaries in one project. As detailed as required. All Visual Building versions allow the creation of multiple floors and multiple buildings in one project file.
Here are some examples of house extensions made with Visual Building house extension planner. These include conservatories, garages, carports, kitchens and bathrooms, loft conversions, garden homes, one or two storey extensions,….
Typical building extensions realized with Visual Building
As already mentioned, you can basically plan all kinds of building extensions with Visual Building. Here are some comments on the different types.
Garage
Garages can either be planned adjoining to an existing building or as a stand-alone structure. With Visual Building you have all the options in terms of the design, construction and floor plans of garages.
You have various alternatives:
- Individual design of the garage, i.e. planned like a normal building
- Possibly supported by our building wizard, with which you can create the floor plan, the walls and the roof in just a few steps and then simply place the almost finished garage in your project. Followed by inserting a garage door and optional windows
- Another possibility since Visual Building Version 9 is to place a finished garage from our new group catalog. Including later post-processing.
Read more about
garage extensions
.
A selection of example garages planned with Visual Building for our new group catalogue
Conservatory
In most cases conservatories can be planned with standard functions of all Visual Building versions. First you insert the floor plan of the conservatory with appropriately thin walls and, depending on the design, fill these walls with window constructions, possibly one next to the other, so that the walls completely disappear or are completely filled with windows. For the roof of a conservatory the standard roof functions of Visual Building are typically used and undesired parts of the wooden structure are switched off, so that only the previous roof covering and, if necessary, the gutters remain. The roof cladding itself can simply be changed with a transparent material by drag and drop from the material catalogue and then appear as transparent as glass.

Read more about conservatory extensions

A selection of example conservatories planned with Visual Building for our new group catalogue

Single floor building extension (single-storey)
An extension with a single floor is usually connected to the main building. When structuring your project, you should first consider whether you are inserting the house extension on the same layer as the ground floor of your main building. This can be easier and more useful if the extension is on the same level and you don't need separate plans. That means plans that do not show the main building but only the house extension. Otherwise, first insert your main building in Visual Building and then use the project viewer to create a new and separate building for your house extension. You can then switch the two buildings visible or invisible in our project viewer with just one mouse click and display only the drawing content you need.
Two floors building extension (two-storey)
As with a single floor extension, you should consider whether the extension will be created in a separate building or on the layers of your main building before inserting it. A separate building allows easier handling of the extension storeys / floors. You can assign a level for the extension that differs from the main building and also different floor heights.
Read more about
planning building extensions
Loft Conversion
Planning and Designing a loft conversion as a house extension is a very typical use case with Visual Building. Layout the loft in your roof space and see how best to use the space. Try out different positions and sizes for your roof windows. If you have a loft and want to try out some loft conversion design ideas then start with Visual Building.

Read more about loft conversions

Carports
With version 9 we have added a set of predefined carports in our new Group catalogue. That gives you an impression what is possible with Visual Building if you intend to draw your own carport. Groups can be inserted in your planning via drag and drop from the catalogue and then separated into its previous elements. That allows you to remove or replace parts of our predefined carports, change the colours and design of included elements with just a few mouse clicks.
Carports are often a combination of standard building elements like roofs or ceilings and our individual modelling elements called 3D Constructions. 3D Constructions are only included in our PRO and Premium Version, not in Visual Building Basic.

Read more about carport design.

A selection of example carports planned with Visual Building for our new group catalogue

Kitchen extensions and kitchen improvements
With version 9 we have added more than 1.000 3D object for kitchen and bathroom design in our standard catalogues. Using these objects we have prepared a set of ready to use kitchenettes and kitchen islands in our new "groups" catalogue category. Groups can be inserted in your planning via drag and drop from the catalogue and then separated into its previous elements. That allows you to remove or replace parts of our predefined kitchens, change the colours and design of included elements with just a few mouse clicks.
If these examples and 3D objects are not what you are looking for take a look at our additional 3D Object catalogue with thousands of 3D objects. Once installed you can directly drop the 3D objects one by one into your planning and arrange them until you have your new kitchen design finished. This is exactly the way we prepared the example kitchens in our group section.

A selection of example kitchenettes and kitchen islands planned with Visual Building for our new group catalogue

Bathroom extensions and bathroom improvements
The same as for kitchens applies to bathroom design, although the design of a new bathroom is probably not limited to the placement of 3D objects. Instead, windows are often added or replaced, and partition walls made of glass or masonry are planned between the bathroom and shower. We have our own additional catalogue extension for bathroom 3D objects. Constructive details are always possible with the plug-in 3D constructions contained in our PRO and Premium versions. If you are not sure which Visual Building version is best for your project, simply write an email to our customer service

A selection of example bathrooms planned with Visual Building for our new group catalogue

Porch
This can be a single-floor extension at the front of your existing building or just a roof to cover your entrance. Visual Building allows both and in different design. Our group catalogue contains a set of predefined porch roofs, mainly to show available options. Everything else are Visual Building standard functions and described in detail in our Guides menu topics

A selection of example porch roofs designed with Visual Building for our new group catalogue

House extension software, Basic features and advantages
As already described, here are some of the advantages of Visual Building when drawing house extension plans:

- Draw all floor plans of all floors in a joint project and not individually
- In Visual Building everything is drawn to scale. However, you can set the scale for each 2D view as desired
- Create as many 2D views as required in a joint project. One view for the ground floor, one for the upper floor or the basement, etc. This way you can easily separate your house extension floor plans
- If necessary, generate section views and elevation views of your extension with just a few mouse clicks, everything you might need for planning application or to get a quote from your builder
- Floor plans usually need to be dimensioned. As an entire planning software, Visual Building offers you a variety of different dimensioning and display


Draw your own house extension floor plan
- First, create a new project either with our project wizard or manually.
- A new project automatically creates a ground floor and inside a floor plan layer
- Edit the height of your floor if you intend to design an entire building with multiple floors or if you intend to get a 3D Floor Plan in parallel
- If you would like to insert a title block on your plans then edit the project properties and insert name and address of planner, owner etc.. These values will automatically show up when you drop a title block 2D Symbol in a view
- While you insert walls keep an eye on the wall type and thickness and optionally the 2D representation of your walls. That avoids later changes.
- Add construction elements such as windows, doors, stairs and columns
- Once your ground floor is more or less complete, copy it including needed content and continue with a new upper floor above or a basement
- When you have all your floors designed, finish your drawings with dimensions. Insert your dimensions on the corresponding floor plan layers of each floor
- Wherever you need help please check our guides menu, the video tutorials, manuals and our training course pdf. Or send us an email to customercare@visualbuilding.co.uk


House extension floor plans with dimensions
In Visual Building you can choose between numerous dimension types and styles, as well as various input variants.
House extension plan layout with 2D Symbols
When your floor plan and views are ready, simply drag finished 2D symbols into the 2D views and finalize the appearance of your extension floor plan. There are hundreds of 2D symbols in our 2D catalogue, including frames, title blocks, etc ...
House extension planner free trial version download
You can try out Visual Building versions before you make your decision. Simply register, login and download. Trial versions are fully functional and without restriction. Everything you draw during the trial phase can be completed in a licensed version if you decide to continue with our software products. If you have any questions during the trial period, just send us an email to customercare@visualbuilding.co.uk and we will help you.
Visual Building is the perfect house extension planner for your project
Visual Building offers three different packages- a basic version and two professional variants - which build on each other. The program runs under all current Windows versions, both in 32 BIT and in native 64 BIT mode. Questions about the handling of our products are answered in detail in our support area, our guides menu and in various videos. If you can't find a satisfying answer for your questions, we are happy to answer all user questions by email. No matter if pre or post sales.
Visual Building Basic
Has been developed as an easy to use design and visualisation tool for self builder,extentions..
£39.00


Special online offer



Visual Building PRO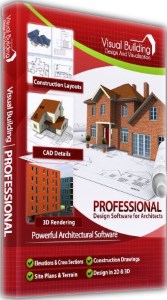 Used by all user groups specifically to create professional plans...
£99.00


Special online offer



Visual Building Premium
Our most powerful design and visualisation tool specifically created for ...
£149.00


Special online offer