Floor Plan Software
Although Visual Building is much more than a simple floor plan software, drawing and designing floor plans is the basis of everything.
Drawing floor plans is not a big mystery in itself, but it is also often not something that can be done with a simple Floor Plan APP. Or at least not with all the necessary details. With Visual Building, you do not have such problems, but you have opted for the Floor Plan software with which you can elaborate and implement your drawings down to the last detail. For every application, in every style and with every level of detail.
Visual Building was especially developed for the construction and design of buildings and of course this also includes floor plans as their basis. It is not a simple and generic 2D drawing software, but all functions are specifically designed for floor plans and therefore much easier to use. Even if you think that you don't need many of the functions of Visual Building, it is good to know that they are there as soon as you need them. And if you do not use parts of the software, at least it did not cost anything extra. Unlike others, you only pay for Visual Building once and not per floor plan, per building, monthly or annually.
Before we go into detail, here is a first impression of drawings and floor plans that were created with our floor plan software.
Visual Building Floor Plan Software, Basic features and advantages
As already mentioned, here are some of the advantages of Visual Building:
-
Draw all floor plans
of your building in a common project and not individually
- Save a lot of time by simply
copying floor plans
and then editing them. Copy the finished ground floor into an upper floor and just change the interior walls. You do not have to redraw everything again, just keep identical elements of your previous ground floor design
- Generate as many 2D views as required in one project file. One view for the ground floor, one for the upper floor or the basement etc. So you can easily separate floor plans into views
- The representation of walls in floor plans can be edited in detail, either monochrome, with multiple wall layers or with hatching. Hatches in a floor plan indicate the materials of building elements, e.g. Insulation, bricks, etc.
- Floor plans usually need dimensioning. As a real planning software, Visual Building offers you a variety of different dimensioning types and display options
- In our 2D views, everything is drawn to scale. You can edit the scale in any 2D view as you like
- Rooms are created automatically, simply while you draw your walls.
- Automatic area calculation, room names and room description: areas of rooms are calculated automatically and correctly. Also for attics or other floors in which a roof reduces available living space. In room property dialog, simply choose which name, which areas and other information should be displayed as a label in your floor plan
- Complete floor plans with ready-to-use
2D symbols
that you simply drag from the catalog into the 2D views. You can add a sheet frame, a title block or just a north arrow. You have access to hundreds of ready-to-use symbols in our catalogues
- Export your finished floor plans as PDF files as easily as printing on paper. Or export as a picture in various formats
-…
Helpful tips while drawing your floor plan
- First, create a new project either with our project wizard or manually.
- A new project automatically creates a ground floor and inside a floor plan layer
- Edit the height of your floor if you intend to design an entire building with multiple floors or if you intend to get a
3D Floor Plan
in parallel
- If you would like to insert a title block on your plans then edit the project properties and insert name and address of planner, owner etc.. These values will automatically show up when you drop a title block 2D Symbol in a view
- While you insert walls keep an eye on the wall type and thickness and optionally the 2D representation of your walls. That avoids later changes.
- Add construction elements such as windows, doors, stairs and columns
- Once your ground floor is more or less complete, copy it including needed content and continue with a new upper floor or a basement
- When you have all your floors designed, finish your drawings with dimensions. Insert your dimensions on the corresponding floor plan layers of each floor
- Create as many views as you need. We would suggest to create one 2D-view for each floor. Name the view in its property dialog. If necessary create one or more section views and typically four elevations. As a result you have a set of building plans as shown in our title screenshot
- Insert a frame sheet for each floor and view, a title as standard text and title blocks or other 2D Symbols a typical floor plan needs
- Wherever you need help please check our guides menu, the video tutorials, manuals and our training course pdf. Or send us an email to customercare@visualbuilding.co.uk
Automatic room area calculation
The calculation of room areas happens automatically in Visual Building. The floor plan software determines various area information and calculation variants you can simply select from a list in our room dialog. These include net floor space or living space. Living space takes into account the clear height under roofs for example, something that you cannot do with a simple 2D floor plan app.
Find more information about area calculation in an attic in our Loft conversion article.

Floor plan dimensions
In Visual Building you have the choice between numerous dimension types and styles and also different input variants.
Floor plan layout with 2D Symbols
When the floor plan design is done, simply drag and drop ready-to-use 2D symbols into the 2D view and finalize the look of your floor plan. There are hundreds of 2D symbols in our catalogues, including sheet frames, title blocks, etc.
Floor Plans for Estate Agents
If you are either a high street estate agent or an online estate agent you already know the importance of supplying a floor plan as part of your sales details.

A good floor plan …
- enables your customers to become quickly familiar with a property
- enables your staff to become familiar with a property without seeing it.
- More likely convert an enquiry into a viewing.
- improves your position over your competitors.
- Provides automatic calculated floor areas from dimensions.

With Visual Building you can now be faster and better than your competitor. If you are a forward-thinking agency looking to use technology to differentiate yourself from your competitors and reduce costs at the same time then Visual Building is the tool that you have been looking for.
2D and 3D Floorplans for Estate Agents
You can very quickly create a 2D and 3D floor plan of a new or existing building. Define your own floor plan style. Ensure that all your floorplans fit your agency style.
You can choose wall thickness, colour and filling. Automatically dimension your rooms using various measurement styles.
Dimension text size and style are easy to change. Automatically calculate area of each room in either square meters or square feet.
Name each room. You can easily colour different area representing different uses. Easily select combination of dimension, area and colour coding to highlight property details. No limit of floorplan styles to suit agency style

Floor Plan Software free trial version download
You can try out Visual Building versions before you make your decision. Simply register, login and download. Trial versions are fully functional and without restriction. Everything you draw during the trial phase can be completed in a licensed version if you decide to continue with our software products. If you have any questions during the trial period, just send us an email to customercare@visualbuilding.co.uk and we will help you.
Visual Building is the perfect Floor plan software for your projects
Visual Building offers three different packages- a basic version and two professional variants - which build on each other. The software runs under all current Windows versions, both in 32 BIT and in native 64 BIT mode. Questions about the handling of our products are answered in detail in our guides and support area and in various tutorial videos. If you can't find a satisfying solution for your questions, we are happy to answer all user questions by email. No matter if pre or post sales.


Floor Plan Drawing Services
Our Drawing Design Services can create floor plans for you. Of course we would prefer to sell you the software that would enable you to complete yourself, but we understand that sometimes you just may not have the time.
Despite the ease and low cost to produce floor plans with Visual Building some of our customers and users still prefer that this function be performed by someone else. This is not a problem as we can offer you our ability to use our own software to offer you a very competitive service. We can supply your plans as PDF Files for each floor plan or view plus the Visual Building project file you can then use to update your plans without referring back to us.
The price is determined mainly by the information you can supply and the building design or construction details. Send us existing floor plans or your sketches with dimensions etc., means everything we would need to reconstruct your building and we will return a quote with a fixed price.
A typical midsize building project costs appr. £ 250 net price (£ 297,50 incl.VAT), based on our drawing service partners hourly fee of £ 50 net price plus VAT, £ 59.50 . This is just to give you a first impression about possible costs.

Visual Building Basic
Has been developed as an easy to use design and visualisation tool for self builder,extentions..
£39.00


Special online offer



Visual Building PRO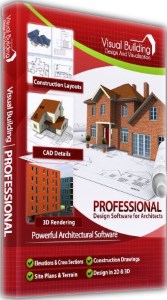 Used by all user groups specifically to create professional plans...
£99.00


Special online offer



Visual Building Premium
Our most powerful design and visualisation tool specifically created for ...
£149.00


Special online offer