How to design your new home in a sustainable and efficient way
The construction industry has seen a lot of technological advancements in recent years that are helping homeowners make more sustainable choices when building a new home. The construction industry contributes to over 40% of all man made carbon emissions, so these advancements are certainly welcomed. As well as changes within the industry, there is an increased awareness on the part of consumers surrounding our responsibilities in the fight against climate change. This has led to a surge in demand for eco-friendly housing.

So, what should we take into consideration when designing a new home to make it as sustainable as possible?

Start with insulation
Designing an eco-friendly home starts with the materials you use. Sustainable materials are growing in popularity in the construction industry. There are plenty of options when it comes to sustainable materials, from reclaimed woods to entirely recycled materials. There is a common misconception that sustainable materials are too weak for house building. But don't be fooled! There are so many homes across the UK which have straw or cod foundations, and are still standing strong. Therefore, incorporating sustainable materials into the walls and roof of your new home will lower your home's carbon footprint.
Choose a green energy tariff from the get go
Your energy starts with your supplier, so make sure you choose wisely. Nowadays, most energy suppliers have renewable tariffs on offer to their customers. However, some are definitely greener than others. Although you cannot set up your energy supply until you are officially the owner of your property, you should definitely start researching tariffs and plans ahead of moving day to ensure that you can get your energy supply set up as quickly and smoothly as possible. Opting for a
green energy tariff
will reassure you that your energy is coming from 100% renewable sources, and won't be doing damage to the environment. Don't know where to start the search? Ring up a trusted price comparison service who can
switch suppliers
for you and move you to the best, greenest tariff on the market.
Renewable energy generation
A green energy tariff is definitely complimented by renewable energy generation. There are a few different ways in which you can integrate renewable energy generation into your home life. From solar panels, to home wind power generation, there are a number of ways in which you can generate your own energy, and even sell energy that you don't use back to the National Grid. There are a few things to consider when choosing your at-home renewable energy system, however. These include but are not limited to:

● What direction your home faces.
● How big your roof is.
● How much rainfall your area receives.
● And more...
Focus on insulation
Most aspects of your home can be optimised when it comes to insulation. For example, we can lose up to 10% of our home's energy if our windows are poorly insulated, so choosing materials for the window frames, and making sure we opt for double glazing, can help us make massive savings on our energy bills. If there is any space between the glass and your frame, then you are definitely losing a lot of heat and money. Your windows should be made from sustainable materials, such as reclaimed wood, to limit the environmental impact of using materials with plastic. Wood is just as, if not more, energy efficient and a better insulator, so choosing your materials carefully will reduce your carbon footprint. According to the
Energy Saving Trust
, you could save up to £120 a year on your energy bills, simply by replacing your windows.
We can say the same for our doors. Choose sustainable materials and make sure they are fitted by professionals who understand insulation. Your wallet, and the planet, will thank you in the long run!
Why spend so much time researching green energy tariffs if so much of it is wasted through your windows, doors, walls and roof? Insulation is key to an energy-efficient home.
To sum up…
With all the developments that the construction industry has enjoyed in recent years, new homeowners now have a plethora of options when designing their new eco-friendly home. From insulation to renewable energy generation, you can make huge savings, and also be kind to the planet, all from the comfort of your own home.
Visual Building Basic
Has been developed as an easy to use design and visualisation tool for self builder,extentions..
£39.00


Special online offer



Visual Building PRO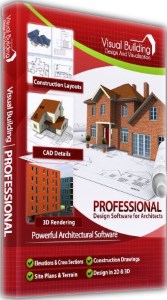 Used by all user groups specifically to create professional plans...
£99.00


Special online offer



Visual Building Premium
Our most powerful design and visualisation tool specifically created for ...
£149.00


Special online offer