Room Planner Software
With its numerous functions and possibilities, Visual Building is also an ideal room planner and can be used for both, as a 3D room planner and as a 2D room planner.
A room planning software is always useful if you want to quickly design available living space and if you want to get an overview of a room situation in 3D.
Our room planner software contains a project wizard with which you can create a room quickly and easily. After that add windows and doors and, depending on your room planning project, insert furniture as 3D objects or continue with interior design using textures and materials.
Typical use cases for a room planner are kitchens designs or bathroom planning. Since Visual Building is a complete house design software solution there are no limits. You can create any type of room or apartments with Visual Building.
Find out how you can quickly and easily draw rooms with Visual Building room planner software, furnish them with 3D-objects and then view and walk through the finished design in 3D.
Creating a room with our 3D Room Planner Wizard
The project wizard of our Room Planner software is actually intended to quickly create a building with its outer contour, several floors and a roof in just a few steps. But if you only want to design a room, this is also the easiest way.
We have predefined the most important room shapes so that you only have to choose the right contour and then define the inside or outside dimensions. You can adjust the floor height at the same time and thus automatically generate the correct room height.
Since you don't need any more floors for a single room, just skip the next step.
If the room is not under a roof surface, simply select the flat roof variant on the Roof page. A flat roof in Visual Building is by definition not a real roof but a ceiling that you can simply set invisible in our 3D room views.
If the individual room is in an attic or if walls of the room are limited in height by a roof, select the appropriate roof shape. In our Room Design Planner, walls are automatically adjusted in height by a roof. So you do not need to edit the walls individually. The roof does that for you.
You can easily change details of the roof in our wizard or any time later. It is only saving time that the roof is just inserted. You can later set the roof invisible in our 2D and 3D views, so that only the walls with appropriate height remain visible for your room design.
When you finish the 3D Room Planner wizard, you have to place the room in your project with a left mouse click. To do this, choose the center of the scene which is the center of our 3D terrain. Absolute accuracy is not important here.
Of course you can create any floor plan with Visual Building as room planner software. Read more about how-to Create Floor Plans.

A short video showing the room planner wizard
Adding windows and doors in your room
Plan your room with windows and doors if required. A good room planner software also contains an extensive catalog of windows and doors, which you can simply drag and drop from the catalog into one of the 3D or 2D room views and insert it in a wall with a left mouse click. For more details on adding windows and doors as well as changing opening direction or hinge, read our guide
Add windows and Doors
.
Furnishing rooms in 3D and 2D
The standard libraries of our3D room planner contain typical3D models for furnishing a living room, bedroom, bathroom, kitchen and other rooms, furniture from various manufacturers, design lamps, light decorations and decorative objects.
In addition to the standard library, there are also collections of objects for kitchen and bathroom design available as additional products.
3D objects are simply dropped, rotated and positioned directly from the catalog into a floor plan. In 2D or 3D views. All furnishings can also be scaled in size and, of course, subsequently moved with your left mouse button pressed or with our move with reference point tool.
Read more about interior design planning
.
Furniture from the Internet - tips for downloading additional 3D objects
If you don't get along with our standard 3D Room Planner software library when you set up your home, simply download the missing 3D models from the Internet free of charge. Find the desired design furniture in combination with search terms such as 3DS or SketchUp objects.
Tips: 3D Warehouse is a web page offering millions of 3D SketchUp objects (such as furniture from IKEA) for furnishing and designing bathrooms, bedrooms, kitchens or living rooms. These 3D objects are available free of charge. With the larger versions of Visual Building, you can import and convert these furniture objects and add them in your own Visual Building catalog.
How-to import IKEA kitchen furniture into Visual Building: Open the 3D Warehouse website in your browser. Enter the search term "IKEA kitchen" in the search field. Various sketchup projects are now listed. Select one of the suggested IKEA kitchen objects, then click on Download and choose SketchUp 2016 Model or Collada as file format. Import the IKEA SketchUp or Collada file into Visual Building using the 3D converter plug-in.
The following video shows the import using our 3D converter plug-in
Designing walls or furniture 3D-objects with a colour or material (texturing)
Our 3D Room Planner contains an extensive collection of textures with different colours and patterns. There are textures for building materials, outdoor areas, furnishings and floors, special colours for interior elements and walls.
Textures are inserted in the same way as 3D objects by simply dropping them onto any 3D surface no matter if this is a furniture 3D-object or a wall. So you can design any surface in a variety of patterns and colours and visualize your own ideas in 3D.
Example: by changing textures or materials of 3D-objects, you can create a kitchen design with glossy cabinet fronts or an alternative with wooden elements.
Read more about interior design with textures
Here is an example, the same scene and 3D objects with different materials:

Multiple views for your rooms
When your room is textured and furnished, our room planner allows creating plans of your room in top view or side view, or to walk through rooms in 3D. In Visual Building you can create all kinds of views from your existing 3D room model, including section views and elevations. Elevations can be important if you need a look at a room wall showing your kitchen cabinets for example. In these views you can add dimensions and other drawing elements.
Saving your room visualization as a picture
There are several tools and settings to get quality 3D visualizations out of your 3D room design project including light and shadow calculation. Ambient occlusion and antialiasing makes a virtual image appear closer to reality. Once the image has been calculated and saved with our raytracing options (rendering), you can present your interior design ideas as a 3D visualization online on your website. Available export file formats for images are PNG, JPG and BMP.
Read more about 3D Visualization of rooms and buildings.
Professional room planner - visualize your ideas
As a 3D room planner, Visual Building is the ideal software for architects, house designers and home owners to visualize your ideas in 3D. Using the tools of our room design software, you can quickly and easily create 3D views of every room.
The 3D Room Planner contains all the necessary elements such as furniture, windows, doors and much more to generate appealing images of your planning. Use the software on your own PC to create and design a variety of room types - living rooms, bedrooms, bathrooms, kitchens or other rooms - options for space planning and floor plans design are unlimited.
Not only made for architects and interior designers, but also for home owners, Visual Building is the ideal room design software with which you can draw professional floor plans.
The architectural software Visual Building is available in different product versions. Use the CAD software to create an appealing visualization of your home in three dimensions with all your ideas for furnishing the rooms. Download Visual Building and start planning your new home in detail.

Plan, design and set up floor plans yourself
Start planning and designing rooms of your apartment or house on your own PC today. Realize your ideas with our professional 3D House Design Software Visual Building - whether it is a room, an apartment or a house.
Our software for designing your room ideas is available in 3 different packages. Visual Building Basic, PRO and Premium.

Visual Building Basic
Has been developed as an easy to use design and visualisation tool for self builder,extentions..
£39.00


Special online offer



Visual Building PRO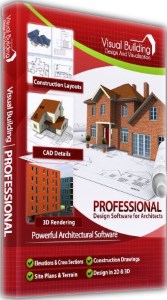 Used by all user groups specifically to create professional plans...
£99.00


Special online offer



Visual Building Premium
Our most powerful design and visualisation tool specifically created for ...
£149.00


Special online offer