Visual Building Basic
Has been developed as an easy to use design and visualisation tool for self builder,extentions..
£39.00
Special Online Offer
Visual Building PRO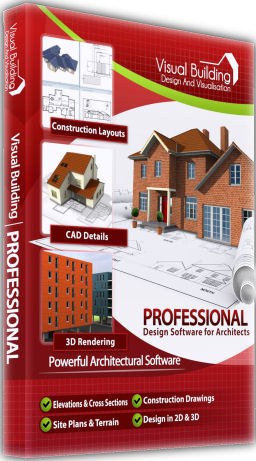 Used by all user groups specifically to create professional plans...
£99.00
Special Online Offer
Visual Building Premium
Our most powerful design and visualisation tool specifically created for ...
£149.00
Special Online Offer
Visual Building , software for self-builders, builders, architects and interior designers.
Visual Building is a CAD application specific to the construction of buildings and is suitable for Architects, Builders, Interior Designers, Selfbuilders, Home owners - in fact anyone that wishes to create and maintain building floor plans. You pay no subscription and there is no contract just a one-off cost.
To see how Visual Building can help you, identify and select your User Profile from the User profile menu.
If you have any question please contact our sales team customercare@visualbuilding.co.uk
Visual Building News

Visual Building Version 12 

02.06.2023: Our new version 12 is now available.
Software Requirements
Visual Building runs on Windows 7, Windows 8, Windows 8.1, Windows 10 and Windows 11.
 
Visual Building Version 10 or higher are supplied as 64 bit versions only.
Free trial
Free trial version for 3 days.
To download the free evaluation programs you simply need you to register.
Trial versions are available in our
download area
.
Compatibility Notes for Mac
Visual Building will run on a Mac using either Boot Camp or Parallels running Windows 7 or higher.
If you already have Windows installed on your Mac, we suggest you download and try any of the trial versions of Visual Building.
When satisfied your configuration is suitable for the trial version, then the licensed version will run.
Hardware Requirements
PC, Processor 1.8 GHz 4096 Mb Ram

Hard Drive space: 2 Gb to install all components.
Internet access is required to receive updates

Visual Building is a graphics application and the more ram, and video ram available the better it will perform.
Use Cases, User Profiles, more Options with Visual Building

See how easy you can design your home with 3D-Objects, textures and materials.
Create quality 3D visualizations with shadow calculation. Add a photo as a background picture in 3D. Edit the world position of your home and determine date and time of day for a realistic shadow simulation


Visual Building has several numeric input and construction options to draw accurate floor plans.
Not so obvious but very common in architectural software is an alternative construction using 2D-guidelines. Mark your construction points and then snap to with your mouse cursor while drawing walls etc.


New timber frame construction PlugIn for walls, included in our Premium version 8
Using the Timber Frame Construction Wizard you can fill all your existing walls with timber frames in seconds and then export a PDF, Word or Excel report with material list and sketches to get a quote from timber frame companies.


If you already own Visual Building Basic, Professional or Premium, you can purchase the Visual Fire Escape Planner functions as an add-on catalogue.

In principle fire escape plans can be achieved with any version of Visual Building used together with the Fire Escape Plan Catalogue, which is available as a separate product.
Read more about Fire Escape Plans in our Visual Fire Escape Planner product description and in our User Profiles menu.


BIM Export PlugIn

Export your 3D building as an IFC file for further editing in other 3D CAD programs .
IFC is the file format behind BIM (Building Information Modeling) and Visual Building exports all major building elements from walls up to the roof.
As a professional user you can export your Visual Building projects and hand them over to other participants of the building process.
As a private user or selfbuilder you can export your own building design for further usage with your architect or builder.
Solar Panels

Using Visual Building software, all our user groups can now design and demonstrate exactly what their final solar installation will look like, and at the same time display the actual parameters used in the calculations. Visual Building also creates a short item list with basic information about your solar installation.


As a solar installer with this wonderful new technology, you will have an added advantage over your competitors and help you convert more enquiries into sales.
Kitchen Design
Kitchen Design with Visual Building and one of the additional Kitchen Catalogue Extensions.
The advantage of using Visual Building is that it gives designers and architects the chance to show their clients how the building and individual rooms will look like, helping you to sell your ideas and designs.
Garden and Exterior Design
With Visual Building you can not only plan and design your building but also the surrounding garden.
A set of 2D and 3D plants plus garden furniture and fences is included in our
3D objects catalogue
. And you have the possibility to load and integrate more objects with our 3D Converter PlugIn.
Bathroom Design
Bathroom Design with Visual Building and our Bathroom Catalogue Extension.
The 3D Bathroom Collection 1 contains 800+ objects and textures for use in bathroom designs in Visual Building.
Interior Design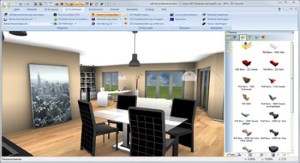 A design and visualization software tool for interior designers and home designers
As an interior designer you need a quick way to express your ideas to your clients. Using
2D plans
and
3D visualizations
you can present in a clear and understandable format your ideas and designs.
No matter if you are providing the interior designs for a single room, a flat, a mansion or a commercial complex, you can use the same interior design tools.
We have fittings, fixtures and
furniture libraries
for all rooms, including bathrooms, kitchens and more....
Our Pro and Premium Versions contain an additional Plan Layout PlugIn with which you can simply create a plan with multiple 2D views on it, without drawing anything new.
Select your existing views from a list, no matter if 2D top view, section or elevation views and arrange them on your plan with a few mouse clicks.
Read more about
Building Plan Layout
.
Visual Building can aid you in all aspects of designing and
documenting electrical installations
for most domestic, agricultural and commercial use. This includes Telephone, Data, Lighting, TV, Satellite, AV systems, Security, Low Voltage, Heating and Ring.
Allthough supplied with many 2D symbols, Visual Building symbol catalogue is extendible allowing you to easily create and add new symbols as required. You can even import existing DXF symbol libraries. (Pro and Premium versions).
As an architectural software Visual Building creates professional
2D Building Plans
with nearly every detail.
Create multiple 2D views showing different content, e.g. one view for each floor, with electrical installation,....
And we have an additional catalogue with 700+ 2D symbols you can easily drag and drop into your 2D drawing.
Allthough supplied with many 2D symbols, Visual Building symbol catalogue is extendible allowing you to easily create and add new symbols as required. You can even import existing DXF symbol libraries. (Pro and Premium versions).
3D Converter

No catalogue can ever be complete but with our Visual Building 3D Converter PlugIn you can download 3D models from the internet, convert them in our own format and extend our existing catalogue with your own 3D elements.

The converted 3D objects can be modified by changing materials and textures, scaled and once completed saved to our standard catalogue from where you can simply drag and drop them into your 3D scene.
The converter supports various 3D formats like *.3DS, *.OBJ, *.skp, Collada, and more...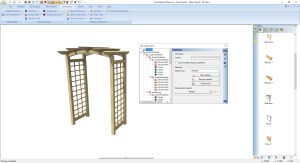 Visual Buildings PRO and Premium versions contain additional functions to
design your own 3D models
.
With a set of predefined 3D solids like cubes, spheres, etc. together with individual extrude, sweep or rotation solids you can add 3D Objects to your catalogue but also solve special construction needs in your building.
So called 3D Substraction solids allow to cut out 3D volumes from your building model, used to create 3D section views, excavation, etc.
Advantages of Visual Building
Easy to learn, Tutorials, Support, Videos,...
100%
Technically up to date, inexpensive, no subscription
100%
Packages to meet your budget and requirements
100%
Visual Building Video Trailer