Printing 2D views and floor plans
Drawing in 2D views and thus also printing these views is always true to scale.
The entire currently visible content of your active 2D view is printed. If necessary, hide content that is not required beforehand, either by deactivating the layer in our project viewer, e.g. the ENVIRONMENT layer with the terrain, or via the visibilities of the respective view.
The paper size required for printing depends on the dimensions of your floor plan and the scale of the 2D view.
There is also a related topic "Export as PDF" with further information on the subject of printing.
Printing in PDF files is often the better option, also because the PDF file then serves as a kind of preview of the printing result on paper.
In addition, it only happens with very, very small floor plans that they fit on an A4 sheet of paper.
When printing to a PDF file you have all paper formats available and not just those that the hardware printer can handle.
What paper size do I need to print my floor plan?
Since most people do not want to calculate the paper format based on the plan and the scale, there are two tools that you can use to determine it very easily.
Option a) Use one of our predefined sheet frames from the 2D symbol catalog and place it in your view. Then you can immediately see whether the sheet it represents is big enough
Option b) start the printing process as a test. In any case, you get a preview before paper is wasted. If the drawing is larger than the preset paper format in the set scale of the view, you will get a so-called preview cursor that represents the current paper format settings. If the sheet is large enough, the preview dialog will appear immediately without the cursor. If the cursor is much too small, cancel the process, choose a larger format and start the process again.

A short video showing both options.
Printing 3D views
3D views are not printed directly. For various reasons. Instead, you save an image from a 3D view, load this image in standard image editing software, or Word, or... and then prints from this software.
When saving the image you can choose the resolution and additional quality settings such as raytracing, ambient shadows, edge filters, etc.. . More on this in the topic "3D visualization of your building".
Visual Building Basic
Has been developed as an easy to use design and visualisation tool for self builder,extentions..
£39.00


Special online offer



Visual Building PRO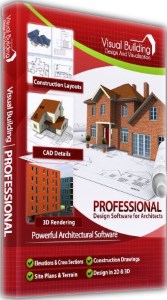 Used by all user groups specifically to create professional plans...
£99.00


Special online offer



Visual Building Premium
Our most powerful design and visualisation tool specifically created for ...
£149.00


Special online offer